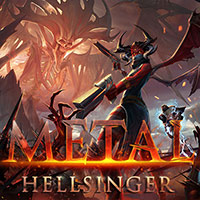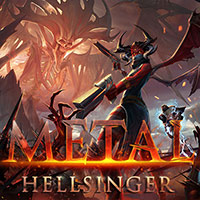 Metal: Hellsinger
Metal: Hellsinger is a first-person shooter in hell, in which the key to efficient killing of encountered hordes of demons is to shoot to the rhythm of metal sounds, in which we will hear the frontmen of legendary groups.
Action | FPP | FPS | rhythm | shooters | Xbox Game Pass | Find Your Next Game
Metal: Hellsinger is a mix of a first-person shooter with a rhythmic game in which we kill hordes of monsters to the rhythm of a metal soundtrack as we travel through the regions of Hell. The Outsiders studio is responsible for the game, including one of the developers of such games as Payday 2 and Battlefield: Bad Company 2.
Plot
In the game, we play The Unknown, half demonic, half human, who, driven by a desire for vengeance, traverses ever lower regions of Hell, to meet the Red Judge face to face at the very end. Before this happens, however, there are plenty of battles with hordes of demons, filthy people and their commanders living in various hellish places, which, contrary to popular beliefs, consist not only of fiery wilderness, but also dark forests, icy lands and other, increasingly twisted locations.
Mechanics
Metal: Hellsinger is a dynamic first-person shooter, in which we visit eight levels of hell, where we receive cold weapons in the form of a skull-decorated sword or firearms such as revolvers or shotguns. Each of them has a unique special ability to effectively and spectacularly get rid of enemies. These are divided into regular, serial hellhounds and their commanding officers, which are more challenging.
The gameplay here is dynamic and different from what other games of the genre have accustomed us to, because apart from the efficient use of weapons, a lot depends on our sense of rhythm. Here, the key is to shoot enemies at the rhythm of the metal songs that accompany us during the game, which not only increase the pace, but also allow you to do much more damage.
Technical aspects
The metal sounds that the game is full of are a real treat for fans of metal music, because you will find here songs to which vocalists of such bands as Arch Enemy (Alissa White-Gluz), Trivium (Matt Heafy) or Dark Tranquility (Mikael Stanne) and others lent their voice.
Game mode: single player
Expectations: 7.8 / 10 based on 21 votes.
Age restrictions Metal: Hellsinger: 18+
Metal: Hellsinger System requirements
Minimum:
(30 fps / 1080p) Intel Core i5-3450 3.1 GHz
8 GB RAM
graphic card 2 GB GeForce GTX 1050 / Radeon RX 550 or better
12 GB HDD
Windows 10 64-bit
Recommended:
(60 fps / 1080p) Intel Core i7-6700K 4.0 GHz / AMD Ryzen 5 1500X 3.5 GHz
8 GB RAM
graphic card 6 GB GeForce GTX 1060 / 8 GB Radeon RX 5700 or better
15 GB HDD
Windows 10 64-bit