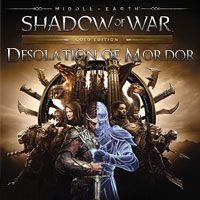 Desolation of Mordor is another expansion to Middle-earth: Shadow of War developed by Monolith Productions. Similarly to the base game, this add-on is available on several platforms, including PC, PS4 and XONE.
Plot
The previous expansion called Blade of Galadriel allowed players to control Eltariel, known from the base game. Middle-earth: Shadow of War – Desolation of Mordor gives players at their disposal an entirely new protagonist. The storyline of this DLC revolves around Baranor – the commander of Minas Ithil who is tasked with gathering an army and dealing with the threat coming from the East.
Mechanics
The most important element of this expansion to Middle-earth: Shadow of War is the new desert region of Lithlad that players can freely explore. Moreover, this add-on offers the option to recruit human mercenaries, with whom you can conquer consecutive sunburnt territories – one should remember that unlike Talion, Baranor does not use the Ring of Power and thus cannot possess the beaten orcs. In combat, the protagonist utilizes new pieces of gear crafted and upgraded by Torvin (a dwarf hunter) via a crafting system.
Similarly to the previous expansion, players who purchase the Desolation of Mordor can complete the main story introduced by the base game as the main protagonist of the DLC – in this case, it is Baranor.
Technical aspects
Middle-earth: Shadow of War – Desolation of Mordor is not a standalone expansion, thus it requires you to own the base game. This add-on is available to purchase separately, or as a part of the season pass.
PEGI Rating
System requirements
PC / Windows
Recommended: Intel Core i7-3770 3.4 GHz, 16 GB RAM, graphic card 4 GB GeForce 970/Radeon R9 290X or better, 60 GB HDD, Windows 10
Minimum: Intel Core i5-2550K 3.4 GHz, 8 GB RAM, graphic card 2 GB GeForce GTX 670/Radeon HD 7950 or better, 60 GB HDD, Windows 7 (SP1)