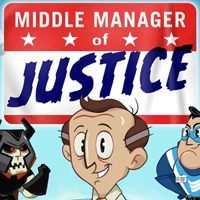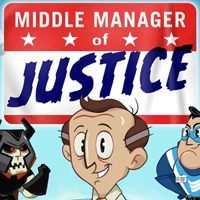 Middle Manager of Justice
Middle Manager of Justice is a funny economic strategy, in which we play the role of the manager of a group of superheroes. The player's task is to recruit heroes and develop their skills, improve the base and earn money, mainly by fulfilling the mission.
Strategy | Economic | superheroes | humorous
Middle Manager of Justice is a mobile economic strategy. The game was developed by Double Fine studio and is available in a free-to-play model with microtransactions.
Plot
Middle Manager of Justice takes us to a universe reminiscent of modern times, however, the difference here is that this world has superheroes, superhumans and other unusual technologies. The largest organization of heroes is Justice Corp, and we play the role of a decent, but not an outstanding manager who has to help the poorly performing local branch. The game does not take itself seriously. Instead, the whole thing is kept in a highly absurd atmosphere and regularly makes fun of the most popular cliches of this type of story.
Mechanics
Middle Manager of Justice is a classic economic strategy about managing a small company. We start playing with a few not very talented superheroes, but through training, we can systematically develop their skills to help them efficiently fulfill their duties. We also quickly get the opportunity to recruit new heroes. The expansion of the base plays a key role. Thanks to the new premises and the improvement of existing ones, we gain access to new investment and development options.
All this, of course, requires a considerable financial outlay, which means that our company needs a steady flow of cash. There are several ways to do this, including performances in cheap advertising, but the main way to earn money is to send superheroes on missions. They deal with typically heroic challenges, such as rescuing people from catastrophes, fighting aliens and battling superhumans. The fights are usually automatic to win, we have to send the right characters. Over time, our involvement in clashes becomes more and more important as our heroes gain special skills and powerful items - a key role is to manually activate them at the right moments.
Technical aspects
Much of the charm of the game results from its aesthetics. The graphics are in 2D but maintained in a nice cartoony style with numerous animations. Above all, however, the greatest attraction is the authors' sense of humor. Middle Manager of Justice is genuinely funny, and the desire to see another funny situation is an effective motivation to continue playing the game.
Game mode: single player
App size:
Age restrictions Middle Manager of Justice: 12+