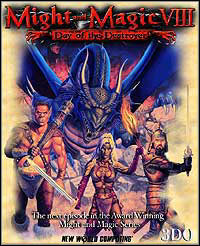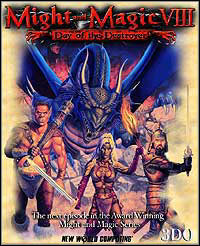 Might and Magic VIII: Day of the Destroyer
PC
Another installment of the universally acclaimed RPG series. Might and Magic VIII: Day of the Destroyer takes us to a completely different realm of Jadame where the legendary Escaton The Destroyer, who wandered through different worlds for centuries, appears.
RPG | FPP | fantasy | Might & Magic | classic RPG
Might and Magic VIII: Day of the Destroyer

Release Date PC

01March2000
developer: New World Computing publisher: 3DO Company Official website

game language: English
Might and Magic VIII: Day of the Destroyer is the eighth installment of Might and Magic, a legendary RPG series, for PC. This time around, we are taken to the completely new realm of Jadame. Similarly to previous installments of the franchise created by New World Computing, we will traverse vast lands yet again to face hordes of demonic beasts in order to complete our mission.
Plot
The Destroyer came to Earth once more. In Jadame, the legendary Escaton, who ventures through various worlds for centuries, has been sighted. Four gates of water, fire, air, and earth have opened, and the forces that lied dormant in them started to ravage the world. To save the land and defeat the spreading evil, we have to lead a party of brave warriors to battle. In our journey, we will not only need knights and clerics but also vampires, trolls, dark elves, and miniatures whose trust we have to earn. We can either save the world from annihilation or just watch it burn.
During the campaign, we will be forced to make choices that influence the course of the story and its climax as well as the attitude of encountered non-player characters. The amount of available side quests is comparable to that of the title's predecessor. We can also play the Arcomage card game.
Mechanics
The most important novelty introduced in this installment of the series is undoubtedly the complete change of party creation process. In Day of the Destroyer, we create only one hero, while the remaining four can be recruited in any way from among the encountered non-player characters and swapped multiple times during the adventure. Moreover, 12 new spells and skills were introduced and can be given to our heroes. The character development system was also slightly altered by the implementation of class-races. The user interface was also subject to minor modification and offers a bigger main screen than previous games of the series.
The remaining features of the game, both in terms of mechanics and graphics, remain unchanged in comparison with its predecessor.
Technical aspects
Might and Magic VIII for PC is powered by the engine of the two previous installments of the series and thus offers somewhat outdated graphics.
Last updated on 23 August 2013
Game mode: single player
Media type: 2 CD
User score: 8,4 / 10 based on 1401 votes.
Age restrictions Might and Magic VIII: Day of the Destroyer: 12+
Might and Magic VIII: Day of the Destroyer System requirements
Recommended:
Pentium 166
32 MB RAM
graphic card 1 MB
375 MB HDD
Windows 95/98/NT