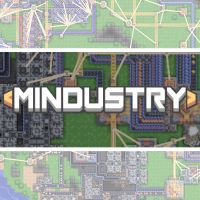 Mindustry
Mindustry is a tower defense game created by AnukenDev. During the game, players take control of their own factory. They must not only ensure the efficient transport of raw materials, but also the safety of the complex.
Strategy | tower defense | PvP | sandbox | 2D | multiplayer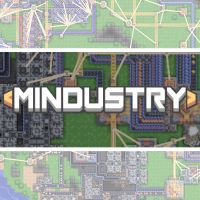 Mindustry is a tower defense game developed by AnukenDev. The gameplay model is a bit like Factorio.
Mechanics
During an adventure in Mindustry, the player takes control of an industrial complex. The aim of the game is to create an efficient industrial and defence network.
The player has at his disposal a number of different types of objects, which will enable him to create a functioning factory. Thanks to a system of relays, the raw materials extracted from the deposits are sent to production blocks. On the other hand, ready-made products (e.g. ammunition goes to defensive turrets) go further from the factories. The fluid transport system also plays an important role in the fun. Every construction built by the player can be set on fire.
Drones have also been implemented in Mindustry. With their help, players can build and extract resources faster. In addition, they can be used to defend the complex.
Game modes
Mindustry gives players four game modes: Survival (based on the longest possible defense of enemy waves), Attack (the goal is to destroy the opponent's factory while defending his attacks), PvP (fight for dominance against three other players) and Sandbox (free play without opponents).
Technical aspects
Mindustry offers simple, two-dimensional graphics in pixel art style.
Similar games:
Age Rating
age requirements: 12+
System requirements
PC / Windows
Minimum: 1 GB RAM, 100 MB HDD, Windows 7/8/10