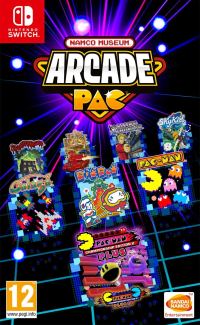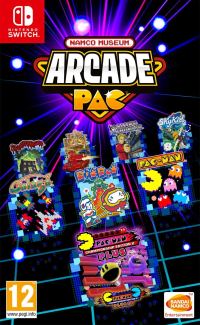 Namco Museum Arcade Pac
Switch
A collection that features Namco Museum and Pac-Man Championship Edition 2 – packages of old-school, two-dimensional games known from first consoles, computers and old arcade cabinets.
Arcade | for 2 people | splitscreen | Nintendo exclusive titles
Namco Museum Arcade Pac

Release Date Switch

28September2018
developer: Bandai Namco Entertainment publisher: Bandai Namco Entertainment Official website

game language: English
Namco Museum Arcade Pac is a package that includes Namco Museum and Pac-Man Championship Edition 2 games. Both titles are collections of old-school games that originally debuted in arcades and on first gaming platforms. The collection was published by Bandai Namco Entertainment.
Mechanics
Namco Museum Arcade Pac features action games, including shooters (like Galaga), platform games, and simple fighting games (like Splatterhouse). All titles are two-dimensional – the specific perspective from which the action is presented depends on the title. In some cases the action is presented from a top-down perspective, in other games, there is a side-scrolling camera. The gameplay mechanics are usually rather simple and based on beating levels.
Game modes
The selection of gameplay modes depends on the specific game. Some titles feature only singleplayer mode, but some games also feature local multiplayer.
Technical aspects
The games available in Namco Museum Arcade Pac feature simple, two-dimensional graphics typical for very old games. They lack any spectacular effects, but fans of retro gaming should be satisfied with them.
Game mode: single / multiplayer Multiplayer mode:
PEGI rating Namco Museum Arcade Pac