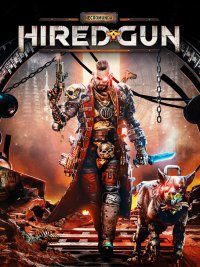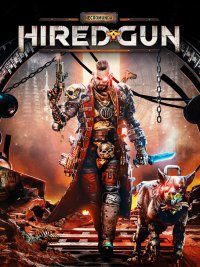 Necromunda: Hired Gun
A dynamic FPS in the Warhammer 40,000 universe from the Streum on Studio team. In Necromunda: Hired Gun, as a mercenary with a cybermastiff, you'll take on numerous assignments on the corruption-ridden planet Necromunda, using your superhuman mobility to fight your enemies.
Action | FPP | science fiction | Warhammer 40,000 | FPS | shooters
Necromuda: Hired Gun is a first-person shooter (FPS) set in the universe of the wargame Warhammer 40,000. It's another trip to the 41st millennium galaxy brought to us by the Streum on Studio team and Focus Home Interactive after Space Hulk: Deathwing.
Plot
Most Warhammer 40,000 licensed games focus on one of the many conflicts between the intelligent races of the 41st millennium and the fight against the forces of Chaos. However, Necromunda: Hired Gun is based on a side game from this universe, set on the titular planet. Although it is part of the Imperium of Man, we will not find here the glory of fighting for the Emperor, but the criminal underworld of the slums of the city-cop ruled by brutal gangs. We take on the role of one of many mercenaries earning a living by carrying out a variety of tasks, mostly boiling down to eliminating the inhabitants of this dystopia.
Mechanics
The player character is not a silent assassin by any means. Equipped with a grappling hook, a wealth of (often explosive) weaponry and a host of cybernetic upgrades, and supported by a deadly dog, the protagonist is mobile and reluctant to eliminate targets discreetly. As a result, the gameplay has a lot in common with the Doom series: the player must constantly be on the move, running up walls, jumping all over the place and constantly attacking the numerous enemies, be they lowly thugs and mutants or more powerful enemies.
As you progress through the game, you'll be able to level up and gain more weapons and upgrades for yourself and your cybermastiff. This will open up new possibilities for the player and allow him to adapt the gameplay to his own preferences.
Technical aspects
Like most modern FPSs, Necromunda: Hired Gun uses realistic 3D graphics. In keeping with the game's dystopian feel, the graphics has been kept in a dark, dirty style, although locations are quite varied and constantly brightened by explosions and other special effects that accompany combat.
Game mode: single player
User score: 6,1 / 10 based on 60 votes.
Pre-release expectations: 5.6 / 10 based on 11 votes.
PEGI rating Necromunda: Hired Gun
Necromunda: Hired Gun System requirements
Minimum:
Intel Core i5-3570K 3.4 GHz / AMD FX-6300 3.5 GHz
8 GB RAM
graphic card 1 GB GeForce GTX 560 Ti / Radeon HD 7770 or better
50 GB HDD
Windows 10 64-bit
Recommended:
Intel Core i5-8600K 3.6 GHz / AMD Ryzen 5 2600 3.4 GHz
16 GB RAM
graphic card 6 GB GeForce GTX 1660 / Radeon RX 5600 XT or better
50 GB HDD
Windows 10 64-bit