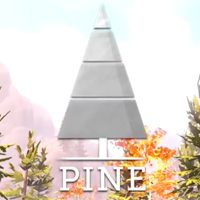 Pine is a PC-based action adventure game. The project was developed by Twirlbound studio and released by Square Enix Collective.
Story
The action takes place on the island of Albamare, a level of development reminiscent of the Stone Age. In this place, people have never climbed the top of the food chain because of the presence of several other intelligent breeds, most of which boast greater strength and more impressive size.
Let us play the role of a young man who is a member of one of the last human tribes. His people stand on the brink of extinction and it is on our shoulders that the duty to find a new home for our brothers and sisters falls.
Mechanics
In the event released on PC Pine we observe the event from a camera placed behind the hero's back. While playing, we explore the world of open structure, collect items, cope with platform challenges and, above all, fight.
As one of the weakest predators, the hero is often forced to rely on cunning and compilation methods. Open confrontations, however, are not suicide. Players can derive various attacks and comboes and evade. There was also the option of using arches. Interestingly, enemies are able to learn our tactics and increase their chances in clashes with us, e.g. by testing new methods or strengthening their physical attributes.
The foundation of the game in Pine is a dynamic world. The island lives its own life - all characters, animals and tribes are controlled by advanced Artificial Intelligence modules that can make important decisions even in the absence of the player. The authors based this aspect of the game on a dynamic simulation, based on modern knowledge about the functioning of ecosystems and their evolution, where each creature does what it can to survive and strengthen the position of its species. This often leads to major changes in the balance of power on the island, which affects the course of the game.
The island itself is full of secrets and their discovery not only allows us to get to know the history of this place, but also provides us with access to many useful items. For example, finding a cigarette lighter allows you to use the fire to deter or attack enemies.
Please let us know if you have any comments or suggestions regarding this description.
Age Rating
age requirements: 12+
System requirements
PC / Windows
Recommended: Quad Core 3.4 GHz, 8 GB RAM, graphic card 4 GB GeForce GTX 970 or better, 4 GB HDD, Windows 10 64-bit
Minimum: Quad Core 3.2 GHz, 8 GB RAM, graphic card 2 GB GeForce GTX 660 or better, 4 GB HDD, Windows 7 64-bit