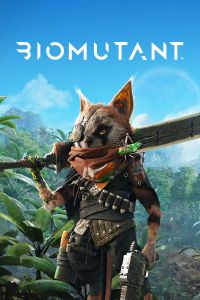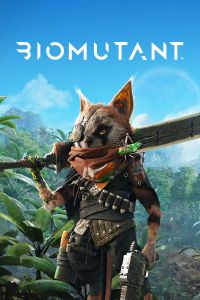 Biomutant
Biomutant is an open world RPG developed by Experiment 101 and published by THQ Nordic. The game takes the players to a peculiar world inhabited by humanoid animals – the universe combines post-apocalyptic science fiction elements with themes from Wuxia movies.
RPG | TPP | science fiction | Post Apocalypse | sandbox | action RPG | slasher
Biomutant is a dynamic action RPG with an open world. The game was developed by Experiment 101 studio, founded by people who previously worked on such titles as Mad Max or Just Cause series, and it was published by THQ Nordic.
Plot
In Biomutant sci-fi atmosphere is enriched with motifs straight from kung-fu movies. Game takes us on a journey to the postapocalyptic, but fabulously colourful world, populated by humanoid animals. The land could function thanks to the Tree of Life. However, when a mysterious plague appeared in it, its roots began to rot; when the plague consumes them completely, there will be no rescue for the world.
During the game we play as a self-made hero, whose task is to unite warring tribes and try to save the world from impending doom. Our actions and decisions affect the protagonist and the entire land, as well as shape the non-linear story, determining its course and ending (we can either save the world or destroy it). The system of the contextual storyteller prepared by the authors, on the other hand, makes sure that all events are presented in an attractive form as a coherent story, constantly commented on by the narrator.
Mechanics
The adventure in Biomutant begins with the creation of a hero. At this stage we decide on his race and profession, which determine the basic statistics (strength, vitality, charisma, intellect, agility and luck) and indirectly affect the appearance. We also choose the initial type of mutation, providing resistance to dangerous conditions in certain locations.
The developers give us a vast world at our disposal, made up of picturesque, richly covered plains, wastelands, ruins of industrial and military complexes and dark underground. We travel through the world on foot or using various means of transport, including a variety of mounts, mechs, water scooters, bionic wings, jet packs and balloons.
The action is observed from a third person perspective (TPP), and gameplay is driven by quests for the various tribes, which not only push the story forward, but also shape our relationships with factions. Dynamic fights with enemies also play an important role here. During battles we have to show dexterity and reflexes and skilfully use our character's abilities, combining elements of hand-to-hand combat and cold weapons (such as one- and two-handed swords, machetes and more sophisticated murder tools like a chainsaw) and using an extensive arsenal of firearms (including revolvers, machine guns and shotguns).
As we progress, we develop the protagonist in various ways. We learn new moves of Wu-Fu fighting style. In addition, we acquire mutations, which affect the appearance of the character, as well as provide him with various powers and abilities (biological contamination, for example, can make him grow huge claws, while radiation can unlock various powers of the mind, such as telekinesis or levitation) and affect his statistics.
In addition, the game has an extensive crafting system, allowing you to create new weapons or improve the ones you already have, based on parts found along the way. The equipment does not end with the hero's arsenal. Also important are his clothes and various accessories; a gas mask and a bottle of oxygen are useful for exploring contaminated zones, while a warm costume is necessary when we find ourselves in icy territory. During our adventures there are also robots supporting us during the fight and other challenges. Each of these machines can be largely modified.
Technical aspects
Biomutant runs on Unreal Engine 4 technology and makes very good use of its possibilities. We especially like the richly animated characters, as well as the colourful elements of the presented world.
Game mode: single player
User score: 6,5 / 10 based on 390 votes.
Pre-release expectations: 8.5 / 10 based on 1127 votes.
PEGI rating Biomutant
Biomutant System requirements
Minimum:
Intel Core i5-4690K 3.5 GHz / AMD FX-8350 4.0 GHz
8 GB RAM
graphic card 4 GB GeForce GTX 960 / Radeon R9 380 or better
25 GB HDD
Windows 7/8.1/10 64-bit
Recommended:
Intel Core i7-6700K 4.0 GHz / AMD Ryzen 5 1600 3.2 GHz
16 GB RAM
graphic card 6 GB GeForce GTX 1660 Ti / 8 GB Radeon RX 590 or better
25 GB HDD
Windows 10 64-bit
Uses:
XOne X: 60 fps @ 1080p / XOne: 30 fps @ 1080p
Uses:
PS4 Pro: 60 fps @ 1080p / PS4: 30 fps @ 1080p