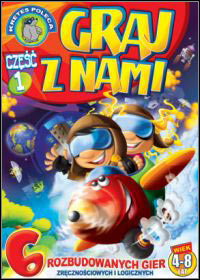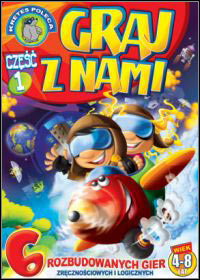 Play With Us
PC
Play with us is a collection of six games addressed mainly to children of pre-school age or just starting school. This item belongs to a series of educational programs published by Aidem Media.
Puzzle | educational | for children | Polish
Play With Us

Release Date PC

10January2007
developer: Aidem Media/BoomBit publisher: Aidem Media/BoomBit Official website

game language: English
Six fantastic and engrossing games for everyone, regardless of age!
Forest stories
Life in the forest is not as easy and pleasant as you would think, especially if you are a little creature and do not look very scary. You also have to keep in mind a pantry full of fruit which our character would not like to part with. The aim is easy - at all costs protect the stores from the opponents coming from all directions.
The merry aquarium
Fish are swimming joyfully in the aquarium and do not want to be caught. However, our aquarium shop is visited by many impatient clients who do not want to leave empty-handed. There can be only one winner in the duel of the shop assistant and fish. The task is not easy, but you will certainly do well.
The geographical shooting range
This is a real challenge which requires dexterity and a sharp eye. In the geographical shooting range many places are waiting to be discovered. Africa as dry as a bone, mysterious Asia, rainy Amazon basin, America, Europe and sunny Australia. Everywhere you will experience a wonderful adventure.
The space family
They say we are alone in the Universe. But here is the proof that it is not true. A family from the Pluto neighbourhood decided to visit their relatives living on the Earth. Unfortunately, their interplanetary spaceship broke down during their journey. The repair is not easy because it requires a huge number of spare parts. You have to help our friends.
The great animal expedition
A monkey, a caterpillar, a penguin and a tortoise - all these animals are lost and looking for the way home and you have to help them! Check what hides in stout mushrooms, inconspicuous leaves or the most ordinary flowers and ... Let's not reveal all surprises waiting for you.
Captain Cosmos
The place - a lonely space settlement, exposed to many dangers. A meteor shower, an attack of a huge creature or a large enemy spacecraft. Sounds scary? Fortunately, brave captain Cosmos is on the alert and laughs in the face of all adversities. Impersonate our hero and face the challenges!
Game mode: single player
Media type: 1 CD
Age restrictions Play With Us: Good for all ages.
Play With Us System requirements
Recommended:
Pentium III 1 GHz
512 MB RAM