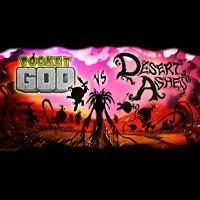 Game mode: single / multiplayer
Multiplayer mode: Internet, players: 1-2
Pocket God vs. Desert Ashes is a turn based strategy game. Set in a fantasy world the game combines two universes, which allows us to meet characters from Desert Ashes as well as Pocket God – a popular iOS game. Released for PS4 and PSV, the game was developed by Nine Tails Digital.
Mechanics
The gameplay is divided into two sections. In the first we observe the world map from a top-down view and decide where to move our units. After encountering enemies the perspective is changed and we are moved to a more detailed view that focuses on small armies. The fights are done in a turn-based mode but they are not overtly complex – during the fights each of the sides uses their single skills alternately. However, some of the heroes have different statistics, which means that not every battle is the same. If you want to succeed you have to choose your warriors wisely.
Some fights happen not only because we have to eliminate the opposing side but also because we can take special stronghold. Depending on which faction we select during one of the available campaigns our goal is to take or keep as much strongholds as we can. If we select the commanders from this land we must defend ourselves from invasions and when we select the forces of evil we try to take the strongholds while losing as few soldiers as possible. Each of the campaigns offers different balance of power and a map – it should be mentioned that maps also change because of day and night cycle. For example, rivers freeze after dark, which opens new ways that help us reach, a given place. Besides the single player mode the game also offers multiplayer in which two people can play the campaign scenarios. One of the sides plays as the invaders and the other one as the defenders.
Technical aspects
Pocket God vs. Desert Ashes, released on PS4 and PSV, has simple yet very original visuals. Luc Bernard, who is known for his very abstractive visions, is responsible for the world as well as the designs of some models. The characters from Pocket God can sometimes be very contrasting style wise, however, this is not a problem during the game.
Age Rating
age requirements: everyone