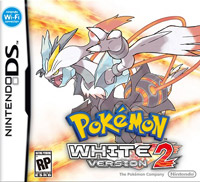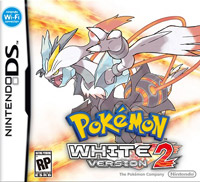 Pokemon White 2
NDS
A direct continuation of the Pokemon White, which was very popular among players and was one of the most popular DS titles. Despite the 3DS, the developers decided to create a sequel for an older console, which at the time of the game's release had a larger user base.
RPG | science fiction | turn-based | Pokemon | co-op | jRPG | Nintendo exclusive titles
Pokemon White 2

Release Date NDS

23June2012
developer: Game Freak publisher: Nintendo Official website

game language: English
A Timeless Pokémon Adventure Continues with Loads of New Features!
Return to the captivating Unova region two years after the events of the original Pokémon Black Version and Pokémon White Version games — the first time in the core Pokémon game series that a storyline has continued from one game to another. In the Pokémon Black Version 2 and Pokémon White Version 2 games, players can explore new areas, discover gyms with new leaders and see how everything has changed in the last two years.
FEATURES:
Players must take on the role of a Pokémon Trainer in the Unova region. As they work to unravel the mystery behind Black Kyurem and White Kyurem, they'll need to face down opponents such as Gym Leaders and other Pokémon Trainers.
The Unova region has changed and grown in the two years since the original Pokémon Black Version and Pokémon White Version games. The first areas players travel through are completely new, and some characters from the previous games have grown and moved into different roles.
In addition to this new entry into the series, the downloadable Pokédex 3D Pro and Pokémon Dream Radar will both release for Nintendo 3DS in 2012, giving players new ways to capture and learn about their favorite Pokémon.
Pokémon Dream Radar lets players use several different features of the Nintendo 3DS system, including the Nintendo 3DS camera, motion control, and Augmented Reality technology to catch Pokémon by moving the Nintendo 3DS to discover hidden Pokémon.
Pokédex 3D Pro is a fully enhanced and upgraded version of the original Pokédex 3D application that includes detailed information about the more than 640 Pokémon featured in the history of the Pokémon video game series. Pokédex 3D Pro will include in-depth sorting, comparison and ranking tools, as well as comprehensive details on what moves each Pokémon can learn and how it evolves.
Game mode: single / multiplayer Multiplayer mode:
User score: 8,5 / 10 based on 63 votes.
Pre-release expectations: 7.9 / 10 based on 7 votes.
Age restrictions Pokemon White 2: Good for all ages.