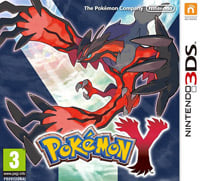 game language: English
game release date for 3DS:
12October2013
Pokemon Y for 3DS is set in a widely recognized universe. The game was developed by Nintendo. Similar to all the other installments in the main Pokemon series, it is a role-playing game about collecting the titular monsters. Pokemon Y combined with Pokemon X both started the sixth generation of the franchise, introducing new characters and motifs as usual.
Story
In Pokemon Y for 3DS, the players assume the roles of trainers who traverse the world in search of the new and more powerful Pokemon. The trainers catch them, train them and send them to battle against other adventurersí Pokemons. This edition of the popular series contains new Pokemon species, including three starting monsters that were previously unavailable: Chespin, Fennekin and Froakie.
Gameplay
In Pokemon Y for 3DS, the gameplay consists of exploration, arcade elements, conversations with other characters and battling against opponents. Combat was based on a very popular idea - it is a turn-based system. During the battles, the player commands a few kinds of Pokemon having different skills and using various combat techniques.
Technical aspects
Pokemon Y and Pokemon X are probably the first installments in the main Pokemon series to feature three-dimensional graphics based on polygons (previously, 2D combined with 3D elements). The world, character models and combat sequences are all in 3D. New graphics allowed better use of the 3D screen of 3DS hand-held console.

Game score 8.5 / 10 calculated out of 140 players' votes.
Expectations before the premiere: 9.1 / 10 calculated out of 34 players' votes.
Similar games:
PEGI Rating