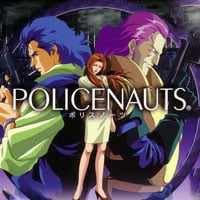 game release date for PS1:
19January1996
Refreshed version of the 1994 PC-98 point-and-click adventure in science fiction style, in which the action is presented in the FPP view. Hideo Kojima is responsible for the script and performance of the game.
Story
Jonathan Ingram is one of the astronauts of the title "Policenauts", whose task is to keep order on the first extraterrestrial colony. One day, a man suffers an accident during tests of a modern suit, as a result of which he is thrown into space and considered dead. Almost a quarter of a century later he is found alive, hibernated in his suit. Jonathan returns to Earth and starts working as a private investigator in Los Angeles. Soon a woman, Lorraine, turns to him and asks for help in finding his missing husband, Kenzo. Ingram is initially not interested in the case, but when the would-be client is murdered, she decides to start an investigation. His former police career partner, Ed Brown, helps him solve the riddle.
Mechanics
Policenauts is a point-and-click adventure in which the action is presented from the perspective of the first person. Console owners visit other places, looking for clues and talking to people they meet. The game is diversified by segments in which players have to solve puzzles, reflexes and accuracy of arcade sections, in which the hero takes part in the shooting and has to defeat the opponents he meets.
Technical issues
Policenauts was released on PS1 on two discs and contains improved graphics and higher quality videos compared to previous editions, which were released, among others, on the 3DO console. The game is distinguished by hand-drawn graphics and animated intermittent scenes. The author of the famous Metal Gear Solid saga, Hideo Kojima, is responsible for the script of the title. Production is compatible with a dedicated mouse console.
Please let us know if you have any comments or suggestions regarding this description.
Age Rating
age requirements: 16+