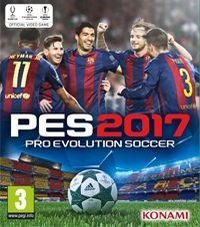 Game mode: single / multiplayer
Multiplayer mode: Internet / common screen
Pro Evolution Soccer 2017 for PC, PS4 and etc. is Konami's answer to FIFA 17. The Japanese publisher doesn't own FIFA's license, so most of the clubs and players in the game function under imaginative names, although the developers have paid great attention to rendering the players realistically, so that there's no problem in telling the super players from the rookies. Konami does, however, own the license for Champions League, Europe League, and Europe Supercup, which can't be found in FIFA. The version for PC, PS4 and etc. is significantly different than the edition for past-generation consoles in terms of graphics and technical nuisances, since the project was much more advanced on curent-gen consoles and PCs.
Mechanics
The developers aimed to render football games as realistically as possible, but not without arcade and strategy elements, which is the series' tradition. Compared to the 2015's edition, there are a lot of upgrades in PES 17. One of them is called "Precise Pass", and controls the behavior of the ball during passes. The system requires precision; the ball has to be passed at the right moment, and the player must be positioned well. "Real Touch" determines the way that different players control the ball. The changes are not limited to the ball – the developer has introduced some changes in the tactical layer as well. Apart from "Advanced Instructions" – a system for drawing up advanced strategy – it's also possible to change the behavior of the whole team from offensive to defensive, thanks to "Total Team Control", which allows the players to instantly react to changing conditions of the game. There are more possibilities during corner kicks now, and the goalkeepers have received sets of new animations, moves, and behaviors, making them probably the most demanding GKs in the history of the series.
Game modes
In Pro Evolution Soccer 2017 there are many different variants of single and multiplayer modes. Among them is of course myClub, which is about building your own team and competing against other players or the AI. During the game you can depend on scouts, who are needed for making deals with footballers. Apart from that, it's also good to analyze opponents' stats, since it can help to choose the best strategy. There also is the Master League mode (obviously) which is a regular season mode, with a couple of new novelties such as upgraded negotiation and transfer system, and more diversified player development mechanics. These elements are complimented by an overhauled tutorial and many different training modes, allowing both the new players, and the veterans to polish their skills.
Technical aspects
Same as last year, the Fox Engine was used for the development of PES 17 for PC, PS4 and etc. The same engine was used in Metal Gear Solid V: The Phantom Pain, but many elements have been updated, including lighting, player models, stadiums, and spectators. Many new animations have also been added.
Similar games:
PEGI Rating
System requirements
PC / Windows
Recommended: Intel Core i3 530 2.93 GHz/ AMD Phenom II X4 925 2.8 GHz, 2 GB, graphic card 1 GB GeForce GTX 260/Radeon HD 4850 or better, 8 GB HDD, Windows Vista(SP2)/7/(SP1)/8/8.1/10
Minimum: Intel Core 2 Duo 1.8 GHz/AMD Athlon II X2 240 2.8 GHz, 1 GB, graphic card 1 GB GeForce 8800 GT/Radeon X1600 or better, 8 GB HDD, Windows Vista(SP2)/7/(SP1)/8/8.1/10