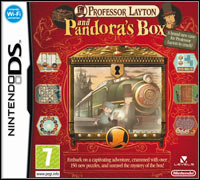 Professor Layton and Pandora's Box
NDS
Professor Layton and Pandora's Box
A game addressed mainly to young audiences, combining elements of adventure with logical riddles. Professor Layton and his assistant set off on the trail of a thief who stole the mythical Pandora's Box.
Adventure | logical elements | 19th century | Nintendo exclusive titles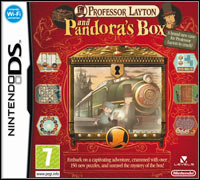 game language: English
game release date for NDS:
29November2007
Professor Layton and Pandora's Box is the second part of the adventure series created by Level 5 studio. Curious Village is connected not only with the main characters - the title professor Layton and his assistant Luke, but also graphic design modelled on French comics, a very large number of puzzles and special codes that allow access to several additional puzzles.
The game takes place in Victorian England. Unlike the first game in the series - Curious Village - the main characters traveling visit several different cities including London and Dropstone. The axis of the plot is the mythical Pandora's Box, which was found by Professor Layton's mentor, Dr. Schrader. When the heroes visit him, they find the host without a trace of life. They also notice that someone stole the box, which supposedly is to bring death to everyone who opens it. Having found in Dr. Schrader's apartment a ticket lost by a thief to the Molentary Express train, they follow his example. They do not know that they are followed by Inspector Chelmey, who is looking for the murderer Schrader.
The game in Professor Layton and Pandora's Box is based mainly on solving puzzles. All in all, there are over 150 different types of puzzles in the game - from moving blocks, through puzzles, to logical and mathematical tasks. As a rule, they are characterized by a moderate and medium degree of difficulty, although they also occur in those that require a high level of concentration.
The mechanism of hints used by the creators of the game, purchased for special coins, allows you to cope with even too difficult puzzles for the player.
Each puzzle is worth a certain number of points. Collecting the right result pushes the plot forward. In addition, the reward for solving the puzzle can be toys for the hamster (they help Luke to train an animal), parts for repairing the apparatus broken by Sammy, or ingredients needed to brew tea for the professor and the characters he meets.
Professor Layton and Pandora's Box uses the functionality of the Nintendo DS console, including a touch screen and a wireless link through which you can download puzzles from the Internet.
The visual setting of the game is maintained in the style of French comics, characteristic for the whole series with Professor Layton. Music for Pandora's Box was composed by Tomohito Nishiura. The soundtrack of the game consists of 24 songs, many of which are inspired by European influences.
Please let us know if you have any comments or suggestions regarding this description.

Expectations: 9.3 / 10 calculated out of 3 players' votes.
PEGI Rating