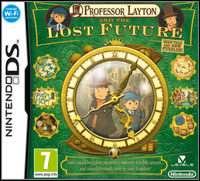 Professor Layton and the Lost Future
NDS
Professor Layton and the Unwound Future
The third part of the popular adventure game, in which, in addition to conversations with the characters and typical adventure elements, we will also find dozens of puzzles that need to be solved in order to learn more about the rest of the story.
Adventure | logical elements | 19th century | Nintendo exclusive titles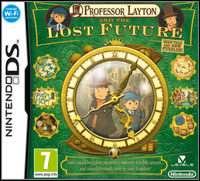 game language: English
game release date for NDS:
27November2008
Professor Layton and the Unwound Future is already the third part of the series with a distinguished professor in the lead role. The game continues the assumptions of the predecessors, being a quite complicated adventure, where the first violin plays the solving of numerous puzzles, in which you have to demonstrate not only logic, but also the ability to solve mathematical tasks. High quality of production is guaranteed by Level 5 development studio, which was also responsible for previous releases.
Layton will again be accompanied by his charges Luke, and the story begins intriguingly - both get a letter.... from Luke himself from the future. The very fact of receiving such a message is surprising for our protagonist, and its content shows that London in ten years from the current events will be plunged into chaos. The only person who can prevent this is, of course, our wise professor.
The game world is described by a set of static images. Therefore, we do not move around the locations freely, and we choose only the places where we are to go. With Stylus we mark interesting items or people we want to talk to, and some activities activate puzzles, which appeared this time about 165.
Different puzzles differ in complexity and difficulty level. Many of them cannot be solved without an appropriate approach - often basic knowledge of mathematical accounts is required. When we have a problem with solving a problem, we can ask the game for guidance, and each new one betrays more and more and leads us to a solution. Of course, the number of possible hints is limited and cannot be used indefinitely.
The graphic design looks quite unusual, but characteristic for this series and slightly resembles the style of French comics. Hand drawn worlds look nice and are pleasing to the eye. The background is played by atmospheric music, which additionally builds the mood of mystery and a little magical world.
Please let us know if you have any comments or suggestions regarding this description.

Game score 8.0 / 10 calculated out of 39 players' votes.