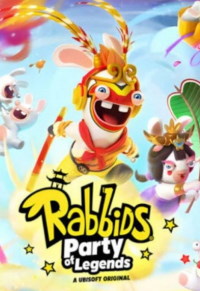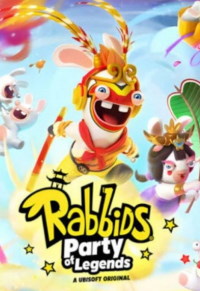 Rabbids: Party of Legends
Rabbids: Adventure Party
Another installment in a series of crazy party games with crazy Rabbids. In Rabbids: Adventure Party crazy furries take us on an adventure in ancient China straight from a fantastic Journey to the West.
Party | for 2 people | family | minigames | splitscreen | Google Stadia exclusive
Rabbids: Party of Legends (originally known as Rabbids: Adventure Party) is a party game that is the next installment of the former Rayman series sub-series starring the crazy Rabbids. The game was originally released exclusively in China on the Nintendo Switch console, but after a few years it lived to see its international debut on multiple hardware platforms. It was developed by the local division of Ubisoft.
Plot
The story of Rabbids: Adventure Party is not particularly developed. This time, Rabbids sets out on a journey to ancient China, full of fantastic elements from the classic novel Journey to the West, where... are looking for their washing machine. They need it to return to modern times.
Game mechanics
In accordance with the traditions of the series and the whole genre, Rabbids: Adventure Party is a collection of multiplayer mini-games. The whole thing is very humorous: the game features such disciplines as shaking a tree in order to get its "fruits", making poses according to the shouting given by the characters on the screen, or a skirmish in which we try to push other players outside the arena. We can play with up to three friends in front of one console - the game does not offer online play.
Technical aspects
The game offers three-dimensional graphics in cartoonish style typical of the series. Like Super Mario Party, Rabbids: Adventure Party uses the Joy-Con feature, enabling us to use motion sensors in selected mini-games.
Last updated on 28 June 2022
Game mode: single / multiplayer Multiplayer mode: Player counter: 1-4
User score: 6 / 10 based on 6 votes.
Age restrictions Rabbids: Party of Legends: Good for all ages.