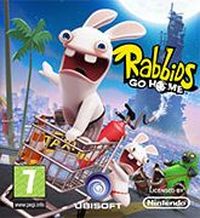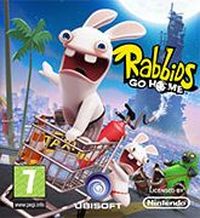 Rabbids Go Home
The funny and unruly Daughters return. This time the rodents want to get home to the Moon. In order to do this, they decide to build a tall tower, using everything they find.
Rabbids Go Home is another portion of adventures of Raving Rabbids (do not confuse with "rabbits"), who for the first time appeared in one of Rayman games. This time the nasty creatures are trying to go back home. In contrast with the last couple of games in the series, Rabbids Go Home is an action-adventure game, instead of a set of mini-games. The game was created by French company Ubisoft.
In the game you are helping the titular creatures go back home. However, they do not really know where that might be, so they simply decide to get to the Moon. In order to do that, they come up with a clever plan to build a tower that would be high enough. Your goal is to collect scrap and other items in order to get them to the Earth's natural satellite. The player controls two Rabbids at the same time – one sitting inside a shopping cart and the other pushing it.
The unruly creatures collect building materials in the crudest possible way – by simply knocking them over. There are 6 worlds to visit, together containing over 50 missions played out in 20 different settings. You mess around in such locations as an airport, cemetery, museum, office and supermarket. There are about 100 various stereotypical humans. The main enemies of Rabbids are Verminators and their deadly traps.
You can make use of several unique abilities. One of them is a BHAH! attack, which tears clothes off an opponent. Of course the clothes become a part of the tower. You can also hunt for various collectibles scattered across the game levels. Many of these grant new abilities, such as floating.
The game has a style characteristic of the series. Locations are colorful and music is daft and lively. An important feature of the game is its specific sense of humor and diverse gameplay. The game offers about 15 hours of gameplay, plus online mode.
Game mode: single / multiplayer Multiplayer mode:
User score: 7,6 / 10 based on 64 votes.
Pre-release expectations: / 10 based on 8 votes.
PEGI rating Rabbids Go Home