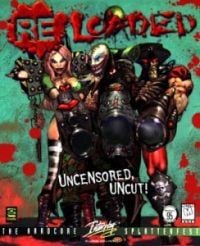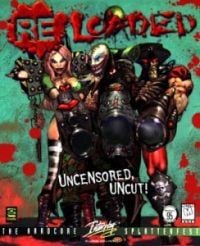 Re-Loaded
A brutal top-down shooter, a continuation of the Loaded game released on PlayStation and Sega Saturn. In the game we play the role of bloodthirsty antiheroes, who are sent to defeat the crazy C.H.E.B.A. - a villain whose brain was transplanted into the body of a hermit-artist.
Action | science fiction | top-down | shoot 'em up | co-op | splitscreen
Re-Loaded is a brutal science fiction top-down shooter developed by the experienced British studio Gremlin Interactive, known for such games as Fatal Racing or Desert Strike. The title is a direct continuation of Loaded.
Story
The main antagonist from the first installment of the series, known as F.U.B. returns. Although his body was destroyed at the end of the previous game, the villain's brain was evacuated in a special rescue capsule. After landing on the desert planet Kee-Butt-5 it was transplanted to the body of the hermit artist named Manuel Auto. Assuming a new identity, C.H.E.B. (abbreviation from the expression "Charming Handsome Erudite Bastard"), he murders the doctors responsible for the operation. When F.U.B.'s destructive ideas merged with Manuel's artistic concepts, further problems were only a matter of time.
In order to deal with the crazy opponent and his minions, bloodthirsty anti-heroes are back in action. Four of them are known from the previous installment: Mamma, Bounca, Butch and Cap'n Hands. However, they were gifted with a new weapon and a slightly changed appearance. The set is complemented by two completely new characters: the cannibalistic symbol of sex, i.e. The Consumer, and a nun-android named Sister Magpie.
Mechanics
Game mechanics is a faithful copy of solutions known from Loaded. The fun comes down to traversing levels and brutal elimination of our opponents with a variety of weapons, such as plasma guns and laser guns. In Re-Loaded we visit 12 totally twisted worlds, spreading fear and destruction in the ranks of the enemy. However, individual levels are much larger than in the previous game, and in addition, we have the ability to deform them. During the game, we collect ammunition and various power-ups, and the final score achieved at each stage can be improved by collecting the bloody remains of our opponents.
Technical aspects
The game is presented in a classic top-down view, with the difference that the game world was created in three dimensions (which in combination with relatively simple 3D models makes it a bit difficult to find one's way around the terrain). Fortunately, Re-Loaded's visuals presents themselves much better than in the original, released less than a year earlier, and take full advantage of the capabilities of modern consoles and PCs.
Game mode: single player
Age restrictions Re-Loaded: 12+
Re-Loaded System requirements
Recommended:
Pentium 90 MHz
8 MB RAM
DOS
Uses:
PlayStation Network
Uses:
PlayStation Network
Uses:
PlayStation Network