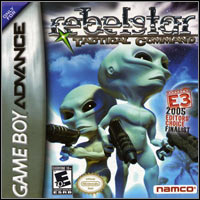 Rebelstar: Tactical Command
GBA
Rebelstar: Tactical Command is a turn-based strategy produced by Codo Technologies, also responsible for Laser Squad Nemesis and X-Com. The game takes us to 2117, when the Earth was attacked by foreign invaders.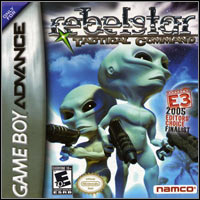 Multiplayer mode: common screen, players: 1-2

game language: English
game release date for GBA:
06September2005
The year is 2117. The evil Arelian Empire has been in control of planet Earth for 70 years. Initially, the Arelians brought peace and prosperity to a world ravaged by war, disease and ecological devastation. Later, they controlled Earth's inhabitants through fear, using their henchmen, the Zorn, to abduct people when they turn 30. Now, a band of rebels rises up to fight against the Arelians. A new recruit, Jorel,quickly advances through the ranks and becomes their leader. He organizes the rebel forces and builds a powerful global army. Soon, he'll challenge the Arelian Empire for control of planet Earth.
* Three Play Modes: Campaign, Skirmish, and Hotseat.
* Turn-Based Strategy with a Twist: Destructible maps where you can use the environment to your advantage. Characters can face and move in 8 different directions and follow true line of sight rules. Use stealth or blow stuff up. Use smoke grenades to provide cover from enemy fire. Use opportunity fire to automatically fire on enemies who pass through your line of sight... during you opponent's turn!
* Turn-Based Combat System: Build a crack squad of rebel soldiers to command combat. Capture weapon technology from your alien opressors and use it against them. Rebelstar Tactical Command gives the player unparalleled variety in exciting battle tactics.
* RPG Elements: Interact with the members of your squad. Spend skill points earned in battle to develop each character just the way you want them. Equip your soldiers from a huge arsenal of weapons and equipment, including sniper rifles, missile launchers, chain guns, laser rifles and a variety of explosives.
PEGI Rating
System requirements
Uses:
link-cable
+ additionally (GBA): link-cable