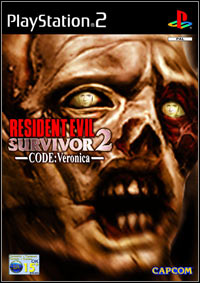 game release date for PS2:
11February2002
Resident Evil Survivor 2 has arrived to take up its position on the PlayStation 2. Set in the same environments as the phenomenally successful Resident Evil: Code Veronica X, Survivor 2 lets you take on the zombie hordes from a first person perspective. This time around, the obscure puzzles have gone, to be replaced by pure shooting action in one of two distinct game modes, Arcade or Dungeon.
In arcade mode, the objective is simple - escape. You choose your character (either Claire Redfield or Steve Burnside), and then set off into the five zombie-infested levels of undead blasting. There are several different weapons to aid you in your escape, including assault rifles, shotguns and grenade launchers, and you'll need every single one if you're going to make it out alive. On the other hand, dungeon mode is played for points, mainly because you'll never escape the endless stream of zombies who'll face you. Either way you play, there'll be no shortage of gore in this violent and disturbing title.
Supports various light-gun peripherals
Many secret modes and characters to unlock
Discover special weapons such as the Rocket Launcher and Linear Launcher

Game score 4.3 / 10 calculated out of 152 players' votes.
Age Rating
age requirements: 16+
System requirements
Sony PlayStation 2
Uses: memory card