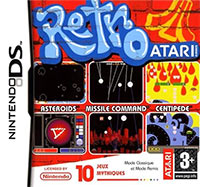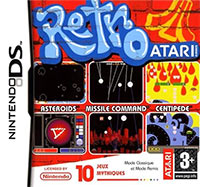 Retro Atari Classics
NDS
A collection of classic games from Atari. The set includes such games as "Pong", "Missile Command" or "Breakout". Some of them also appear in the version with changed graphic design.
Arcade | Nintendo exclusive titles
Retro Atari Classics

Release Date NDS

11March2005
developer: Atari / Infogrames publisher: Atari / Infogrames Official website

game language: English
For the first time, 10 classic originals -- Centipede, Missile CommandŽ and more -- are all in one package for the Nintendo DS™ system.
Play your Atari favorites like never before with Nintendo DS™ gameplay, providing a hi-tech twist to some lo-fi legends. Each game has an original version as well as a Remix Mode, where three legendary graffiti artists have tagged the classics with their own funky street art.
Ten Classic Games -- play the originals or add stylin' Remix skins.
Game mode: single / multiplayer Multiplayer mode: Player counter: 1-4
PEGI rating Retro Atari Classics