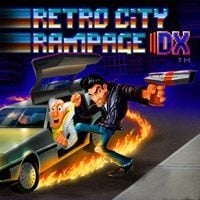 Retro City Rampage: DX
Retro City Rampage: DX is a new and improved version of Retro City Rampage, released for the first time in 2012. The title is a parody of such series as Grand Theft Auto. Players move on until 1980 and take on the role of a mentally unbalanced criminal from Theftropolis.
Action | sandbox | 2D | humorous | top-down | cross-platform | indie games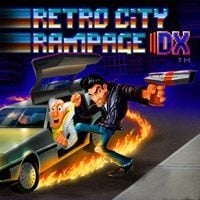 Retro City Rampage: DX is a two-dimensional action game, a tribute to the most popular 8-bit console hits as well as pop culture of the 80's and 90's. The title is a developed and improved version of the premiere edition of Retro City Rampage, which was released in 2012. The work of Vblank studio was positively received by players and reviewers, as well as awaiting conversion to the most important hardware platforms. The DX version introduces a number of new features, such as new graphical filters, improved police AI, an improved combat system, a new user interface and a world map design. Fans can also enjoy additional songs and a new set of achievements.
During a campaign set in the 1980s, the player takes on the role of an average but talented criminal who gets caught up in a rather crazy story. We travel the city of Theftropolis, carrying out various tasks, stealing cars, as well as fighting law enforcement and other criminals (using 25 types of power-ups and weapons, including a baseball stick, sword, boomerang, grenades, rifle and rocket launcher). In our free time we also visit shops with clothes and food, as well as listen to many radio stations offering a variety of chpitune music.
Retro City Rampage: DX is divided into history mode and arcade mode. We have 60 fictional missions and 40 additional missions-challenges to complete. Some of them have been created in a style that refers directly to well-known and popular games. Among them you can come across tasks modelled on the mechanics of titles such as Gargoyle's Quest, Duke Nukem, Punch-Out, Sonic the Hedgehog, Frogger, Legend of Zelda and Metal Gear. There were also open borrowings and ridiculing of such things as Return to the future, Warrior Turtles Ninja, and also Team A. In the game, apart from the sandbox model of the game, when the action is observed from a bird's eye view, the creators have also implemented mechanics known from other genres - such as arcade shooters and platformers - thanks to which the title still surprises with new solutions. The whole was maintained in a climate of 8-bit consoles.
Like the original Retro City Rampage, the DX edition offers a range of graphical filters that change the look, style and color palette of 8-bit and 16-bit consoles, arcade machines and computers.
Age Rating
age requirements: 12+
System requirements
PC / Windows
Recommended: Intel Pentium III 1 GHz/AMD Athlon 1 GHz, 512 MB RAM, graphic card 128 MB GeForce 6600/Radeon X1300 or better, 50 MB HDD, Windows XP/Vista/7
Minimum: Intel Pentium III 1 GHz/AMD Athlon 1 GHz, 256 MB RAM, graphic card 128 MB GeForce 5700/Radeon 9600 or better, 40 MB HDD, Windows XP/Vista/7