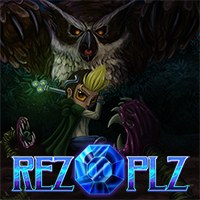 Game mode: single / multiplayer
Multiplayer mode: common screen, players: 1-2
REZ PLZ is a logical platformer in which players take on the role of one of the wizard brothers having the power of resurrection and set out to help the land in which evil has taken root. The main attraction is a two-player cooperation mode. Long Neck Games studio is responsible for the title.
Plot
Dark Arcanum is a place where five evil magicians rule. Two brothers, Arcan and Zeph, decide to face them, but their journey is full of dangers that could end in a tragic death. But they have a powerful resurrection spell scroll, so they don't really care about monsters or traps, as they can always resurrect each other. The adventure can continue when at least one of them remains alive.
Mechanics
REZ PLZ is a logical platformer observed from the side, in which we play the role of two mages. The game is reminiscent of Trine, but here we experience much more death and in a much more brutal form. Especially since death here is an indispensable part of the game and many puzzles require the sacrifice of one of the brothers in order to continue the journey further. We're about to be burned alive, dismembered, crushed, devoured by beasts and many others. Fortunately we have the above mentioned resurrection scroll, so that the death of one of the brothers is only temporary.
As the game progresses, the brothers gradually acquire new powers and spells to solve increasingly difficult puzzles, allowing them to reach further afield in the Dark Arcanum. This land is divided into five different biomes filled with unique traps and monsters, and at the end of each one of them there is one evil magician waiting to be confronted. And when you're done playing, you can sit back and try the additional modes you've unlocked. An example of one of them is the possibility to race against another player.
During the game we find various cosmetic accessories, thanks to which we will adjust the appearance of our hero according to our tastes.
The game is aimed at cooperation for two players, but it is not obligatory and the game can be played in single player mode.
Technical aspects
REZ PLZ is a game maintained in pixel art style, and the appearance of the characters is clearly inspired by Japanese productions.
System requirements
PC / Windows
Minimum: Dual Core, 2 GB RAM, graphic card 512 MB GeForce 8800 or better, 750 MB HDD, Windows XP