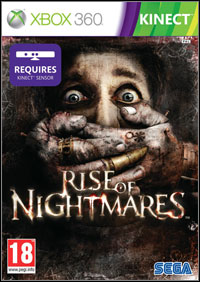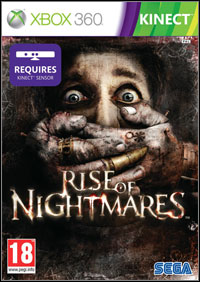 Rise of Nightmares
X360
Rise of Nightmares is a dark action game in the survival-horror convention by SEGA. Players play the role of an American tourist, who sets out to rescue his wife kidnapped by a crazy scientist.
Rise of Nightmares

Release Date X360

06September2011
developer: SEGA publisher: SEGA Official website

game language: English
Survive one hellish night as you fight using the hands-free controls of Microsoft® Kinect.
Introducing Rise of Nightmares™, a truly mature experience for Microsoft Kinect. Survive one hellish night as you fight hand to hand against undead enemies and mad scientists using the hands-free controls of Microsoft Kinect. Using knives, chainsaws and your bare hands, rip your foes limb from limb while uncovering the location of your kidnapped wife.
Horrifying and compelling
An unashamedly mature title in a sea of family-friendly offerings on Kinect for the first time, Rise of Nightmares takes you into a cinematic world of horrific blood and violence.
Unique motion controls
Use your whole body to fight the undead horde with physical brutality. Rise of Nightmares is an intensely immersive experience that brings horror to life like never before.
Explore and investigate
Navigate through Viktor's castle with free movement control, uncover the secrets held within and delve deeper into his the mind of a madman.
Deep and varied gameplay
Master the different fighting styles and various weapons, stealthy sneaking and puzzle-solving. Will you fall into the mansion's traps or lure the undead into one of your own?
A complete experience
A full, cinematic gaming experience set in a twisted and astonishing world that grips you from the very start.
Media type: 1 DVD
User score: 8,2 / 10 based on 113 votes.
Pre-release expectations: 9.1 / 10 based on 26 votes.
PEGI rating Rise of Nightmares
Rise of Nightmares System requirements