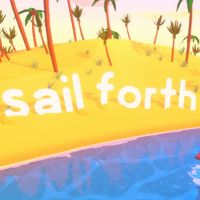 Sail Forth
Action game in which we play the role of sailors traversing the dangerous waters of the picturesque archipelago. In addition to sailing at Sail Forth, we also acquire the resources needed to expand our fleet and face pirates and monsters.
Action | TPP | fantasy | sailing | Pirates | ships | indie games | simulation elements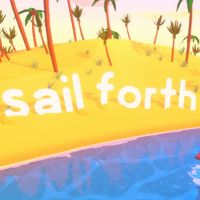 Sail Forth is an action game in which we sail and face the dangers lurking at sea. The production was developed by David Evans, an independent American developer from Seattle, and released by The Quantum Astrophysicists Guild.
Mechanics
In Sail Forth the action was presented from the third person perspective (TPP). The game begins with a small boat, on board of which we traverse various maps. Locations are generated procedurally, so each of them provides us with a slightly different visual "experience" (although all of them are equally picturesque).
When sailing you should be on guard as the sea is full of pirates and monsters. We face our opponents in dynamic clashes, during which we try to conduct accurate shooting with cannons and rifles, while at the same time avoiding attacks. Even when there is no enemy on the horizon, it is worth to be on your guard, because the weather is also unpredictable, and high waves or gusts of wind can be a threat to especially inexperienced sailors.
Exploring picturesque locations, as well as sink enemy ships, we acquire the resources necessary to build new and larger ships; in this way, over time, we acquire an impressive fleet, so that in the event of sink one of the boats we are not condemned to begin the adventure from scratch. Already owned ships can be upgraded (for example by installing more and more powerful weapons) and visually modified.
Technical aspects
Sail Forth has colorful graphics in an eye-pleasing, cartoon-like style that evokes certain associations with the cult game The Legend of Zelda: The Wind Waker. The fun is accompanied by a soundtrack that allows you to relax during exploration and warms up to battle during clashes with adversaries.
System requirements
PC / Windows
Recommended: Intel Core i7 2.3 GHz, 8 GB RAM, graphic card 2 GB GeForce GT 750M or better, 300 MB HDD, Windows 10
Minimum: Intel Core i5 2.3 GHz, 4 GB RAM, graphic card Intel HD 4000 or better, 300 MB HDD, Windows 7