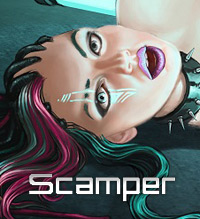 game language: English
game release date for PC:
2021
Scamper is the first game of Star Socks Team, which has grown from a group of several enthusiasts to more than 40 people during work on this project. This is a production referring to classic cRPG games, based on making difficult moral choices.
The action of the game has been set in the distant future. We play the role of a girl whose only task is to escape from a distant planet, where she was sentenced to death. This world is controlled by the mafia and gangs that control almost all areas of the lives of poor people, forcing people into prostitution and drug addiction.
The creators describe their project as cRPG and do not hide the fact that they were inspired by games such as The Witcher and Fallout. However, this does not mean limiting oneself to copying the solutions used in the above titles and the authors have introduced some new ideas. One of them is a combat system that is based on tactical planning of its actions.
The game is based on the Neuroshima system, a Polish role-playing game released in 2003. There are no points of life here, only wounds and their consequences, e.g. a heavily damaged character will not be able to fight at the same level as a healthy soldier. The creators made available a number of futuristic weapons, from ordinary pistols, through pneumatic weapons, shotguns and more. Additionally, the characters can be equipped with implants that add various functions, e.g. for a few minutes you get more pain resistance points. However, they cannot be used all the time, as each is limited to a maximum of a few uses per day.
On our way we will meet a number of characters, including Jan Kowalski, a mysterious individual from the slums. In addition, we will visit a chemistry store run by John the Pharmacist, an orphanage run by Bernard Crick and others.
In the game there are several factions (Unibox, Alliance of the United Worlds, Order Service, Consortium of the Rising Sun, Order of Sisters of Mercy, Mafia) with which it is worth entering into various relationships. If our dealings with them are good, we can expect help if we get into trouble. However, gaining trust is not easy, because each faction has different philosophies, behaviors and goals. So by acting in favour of one, we can harm the other.
Please let us know if you have any comments or suggestions regarding this description.

Expectations: 8.6 / 10 calculated out of 62 players' votes.