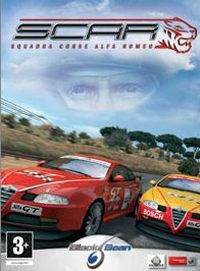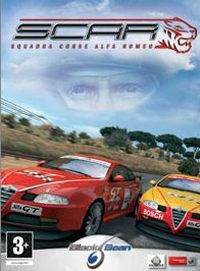 S.C.A.R.: Squadra Corse Alfa Romeo
Another product of people responsible for Apex (aka Racing Evoluzione) and the memorable Screamer series. It is also the second, after Lamborghini FX, approach of Italian developers to the topic of branded sports cars from the Apennine Peninsula.
Squadra Corse Alfa Romeo, is a stunning racing simulation which combines both realistic car physics, and vibrant graphics together with classic Role Playing Game elements to become the first 'CARPG' ever developed.
For the first time in a racing game, players must improve their skills as drivers instead of modifying their cars, making the ability to match a set of skills to the different requirements of each competition just as much an important part of winning the race.
In addition to choosing their favourite Alfa Romeo, players will be given the opportunity to choose their own race gear which will best improve their performance, as well as tune the levels of each of their different skills which will include: reflexes, hand-eye coordination, and their ability to cope with the stress of racing high speed circuits. Another unique skill is the Tiger Effect, which will give drivers the ability to turn back time and correct any potentially dangerous.
In SCAR, AI competitors are also based on a complex combination of skills and features which come together to form an opponent best adapted to the cars, course, and player, giving rise to countless alternative outcomes. The actual skill system is based on nine different abilities, divided into three tiers of experience. Skill sets include:
Heart: Increases driver's basic health capacity (Driver Condition).
Vision: Increases Tiger Effect capacity for Driver.
Intimidation: Ability to intimidate other drivers and cause them to make mistakes.
Handling: Improves effective vehicle grip and Driver's ability to handle the car.
Acceleration: Increases overall acceleration and reduces gearshift time.
Recovery: Reduces effects of vehicle crashes and effects.
Focus: Allows Driver to reduce Condition damage to car and self.
Anticipation: Improves the Tiger Effect's duration and potency.
Endurance: Driver's basic healing rate. Improves Driver Condition regeneration rate.
A variety of different courses means that players will have the chance to compete on both race-circuits and in Fast & Furious street races across exotic Italian locales which range form the Tuscany hills to the Naples seaside, or battling it out in the streets of Florence and Milan.
Milestone have also developed an innovative AI system that adjusts the performance according to that of the player, requiring them to distribute skills and gain points in the same way. In fact, during any race, the cars will engage in a compelling duel to beat each other and achieve maximum skill points.
Finally, remaining true to Alfa Romeo style, the music is 100% Italian style remixes of the original Ennio Morricone songs to give the final touch of flavour to this highly anticipated game from Milestone.
Game mode: single / multiplayer Multiplayer mode: Internet
Media type: 1 CD
User score: 8,2 / 10 based on 545 votes.
PEGI rating S.C.A.R.: Squadra Corse Alfa Romeo
S.C.A.R.: Squadra Corse Alfa Romeo System requirements
Recommended:
Pentium 4 2 GHz
512 MB RAM
graphic card 128MB (GeForce 3 or better)
580 MB HDD
Uses:
memory card
additionally (PS2): steering wheel