Adam's Venture Video Game Series
Video Games Encyclopedia by Gamepressure.com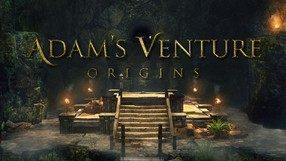 Adam's Venture: Origins
Adventure 01 April 2016
A new version of an adventure game that initially came out for PC in three separate episodes released between 2009 and 2012. It was developed by the Dutch Vertigo Games. In the game, we assume the role of the eponymous adventurer and treasure hunter who happened to find notes pointing to a supposed location of the biblical Garden of Eden in an old Templar church. Alongside his friend Evelyn, the protagonist embarks on a dangerous journey, trying to outwit members of the powerful Clairvaux corporation. Adam's Venture: Origins puts emphasis on logic elements and offers about 60 varied challenges that require us to use our wits. Technically, the game is an attempt at redoing the game in accordance with the initial concept, which was deemed unworkable due to technical and financial reasons. Therefore, the title offers slightly expanded story enriched with new themes, modernized graphics, and a number of gameplay enhancements.

Adam's Venture Chronicles
Adventure 05 February 2013
A classic adventure game set in the 1920s, in which we try to solve the mystery of a mysterious manuscript located in the garden of Eden, playing the role of the traveller Adam Venture. The compilation consists of three episodes previously released on computers and provides about 10 hours of gameplay in the main plot.

Adam's Venture: The Search for the Lost Garden
Adventure 02 October 2009
A three-dimensional adventure game in which we visit exotic caves and caves in search of the title, biblical paradise. This is the first episode of the trilogy. The game combines adventure-based location exploration, collecting objects and solving puzzles with delicate arcade and platform elements.