Pathologic Video Game Series
Video Games Encyclopedia by Gamepressure.com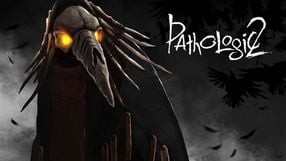 Pathologic 2
Adventure 23 May 2019
Remake of a unique horror action adventure game from Ice-Pick Lodge, which originally launched in 2005 for PC. Its new version was created according to the developers' first concept, which was previously impossible to realize in full, due to technological and financial limitations. Pathologic takes you to a small town, whose citizens suffer from a mysterious disease. In order to combat the epidemic the local authorities hire a group of independent individuals, whose task is to stop the spread of the virus before it is too late. All characters work independently from each other and conduct their own investigations. When compared with the original version, Pathologic Remake offers much better graphics, generated by the Unity engine. Emphasis was also put on new quests and plots, better gameplay balance, and improved AI of NPCs, as well as professional voiceover, the lack of which was the biggest fault of the original game.

Pathologic Classic HD
Adventure 29 October 2015
A refreshed version of the classic action adventure game that was released in 2005. The new version was prepared by the creators of the original title, Icepick Lodge, as a side project to a complete remake of the game. The plot of Pathologic Classic HD is same as in the original game and it focuses on a mysterious virus that spreads across a small city, causing many casualties. When the authorities decide to seek out help from outside, three different characters arrive in the city and try to solve the mystery during the next twelve days. The game is story-driven and focuses on adventure aspects. What makes it different from other games is the fact that two non-playable characters are acting parallel to achieve the same objective as the player. All three characters are frequently getting in each other's way. In contrast to the original game, the new version features refreshed, high-resolution graphics. The developers have also fixed many of the bugs of the original game and recorded a new version of dubbed dialogue sequences.

Pathologic
Adventure 09 June 2005
A horror-style adventure action game with RPG elements. The player ends up in a mysterious village that has been infected by a deadly virus. In discovering the gloomy history of the inhabitants, he has to find the causes of the disease and tame it.