Door Kickers Video Game Series
Video Games Encyclopedia by Gamepressure.com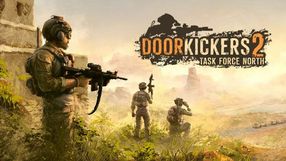 Door Kickers 2: Task Force North
Strategy 2023
A continuation of the 2014 tactical strategy game developed by Killhouse Games, which recreates the routines of SWAT anti-terrorist units. The action of Door Kickers 2: Task Force North takes the players to the Middle East, where the player-controlled squad, comprising representatives of many special forces, follows the trace of a dangerous terrorist organization. One observes the action from a top-down perspective and experiences all the events in real time with the option to utilize the active pause system. Like the first installment, the game has been divided into two parts - equally important to carrying out a mission is proper preparation, which includes selecting units with adequate skills and dispatching them properly across the map. The creators introduced many improvements and novelties that make the whole experience even more realistic. Among these, one can find new pieces of gear, the option to operate under the cover of night, jumping through windows, and the new mechanics allowing one to group his units.

Door Kickers: Action Squad
Action 10 September 2018
2D retro shooter and spin-off to the Door Kickers series. Door Kickers: Action Squad has you play as a member of an elite anti-terrorist squad. You take part in a series of missions, which usually require you to infiltrate a building and save hostages. This, however, is not easy, as your character can die at the hands of all sorts of criminals: sprinters armed with knives, terrorists wearing bomb vests, or mobsters armed to the teeth. On the other hand, you can command one of several character classes, including an operator with a shield, or a breacher armed either with a shotgun or a submachine gun. It is also worth to use police tactics, such as breaching through windows and skylights, or classically, by kicking down doors. At any moment you can also invite a friend to play with you, as the game offers both local and online co-op mode. Door Kickers: Action Squad uses old-school stylistics, combined with modern light effects.

Door Kickers
Strategy 20 October 2014
2D tactical strategy, which is the debut work of Romanian studio KillHouse Games.