Life is Feudal Video Game Series
Video Games Encyclopedia by Gamepressure.com
Life is Feudal: MMO
RPG 18 November 2017
Developed by the Russian Bitbox studio, Life is Feudal: MMO is a spiritual successor to a 2013 game that combined elements of MMORPG and a medieval life simulator. The game expands the elements from its original and features a much bigger scope with its wider open world and even more options to shape it. After a player creates their character, they travel to a world inspired by the Middle Ages, covering the area of over 400 square kilometers and featuring forests, diversified game, and precious resource deposits. The player can influence the world in any way by piling up hills, digging tunnels, as well as establish villages, towns, and even strongholds. The extensive crafting system allows the player to achieve mastery in a particular trade and survive in this not very hospitable environment. Up to 10 thousand players can play simultaneously and establish guilds, form alliances, fight numerous battles, and besiege other players' settlements.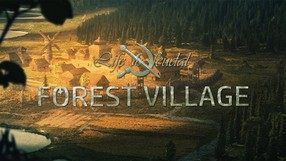 Life is Feudal: Forest Village
Strategy 26 May 2017
A city builder strategy game created by Mindillusion. The player is placed in charge of an early-medieval settlement. One's prime goal here is to maintain an appropriate balance between expanding the village and being able to survive in a hostile environment. Thus, apart from utilizing more and more space, constructing new buildings and upgrading the existing ones, the player has to give proper winter clothing to their subordinates and deliver them with balanced meals. The last can be achieved through growing different kinds of plants, breeding animals and storing food; making light of these aspects can result in dangerous epidemics. Apart from that, the player's village can fall victim to attacks of predators and various natural disasters, such as tornadoes or storms, which can cause a fire. All such events affect the spirit of the villagers, which is reflected by a special meter - unhappy workers become less productive. Life is Feudal: Forest Village offers a three-dimensional environment. Interestingly, the player can switch between an isometric view and first-person perspectives (as one of his subjects).
Life is Feudal: Your Own
RPG 17 October 2015
A sandbox MMORPG, whose main theme is survival in a dangerous world. The game was developed by the independent Russian studio BitBox. What sets this game apart from competition is the medieval setting, resulting in some limitations when it comes to available tools and working techniques. The game is set in an open world of 450 square kilometers, filled with natural resources and wild animals. The player's main goal is to create a shelter from predators and enemies, as well as craft tools for everyday work. In order to do that you have to explore, gather resources, transform the land, and raise buildings. By engaging in certain activities you develop various crafting or fighting skills. Just like in other similar games, there are hundreds of players coexisting in one world, whom you can fight of cooperate with.