The Curious Expedition Video Game Series
Video Games Encyclopedia by Gamepressure.com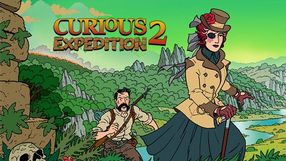 Curious Expedition 2
RPG Thursday, 28 January 2021
Curious Expedition 2 is a continuation of the warmly acclaimed nineteenth-century roguelike of adventurers. Compared to the first part, the mechanics responsible for travel and combat were heavily developed. The game is the work of the German studio Maschinen-Mensch.

The Curious Expedition
RPG 02 September 2016
A roguelike game set in the 19th century. The Curious Expedition combines elements of adventure, strategy, and action role-playing games. We assume the role of the head of a scientific expedition that searches for legendary places such as Atlantis or El Dorado. Our party can consist of such famous 19th-century scientists as Karol Darwin, Nikola Tesla, or Marie Curie. Each of them works for their own reputation and uses a unique weapon. While playing, we move through procedurally generated maps divided into hexes. Once we reach an interesting place, the perspective switches to the view typical for classical adventure games. In our travels, we can encounter local tribes and hidden treasures guarded by traps and various enemies — from wild animals and cannibals to dinosaurs or zombies. The title puts emphasis on logistics and planning. Selecting the right equipment and skillful management of our resources are key elements to the success of every expedition. The Curious Expedition features old-school pixel-art graphics.