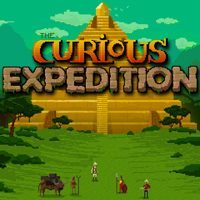 Game mode: single / multiplayer
Multiplayer mode: Internet
The Curious Expedition is a nineteenth-century roguelike production for PC and web platforms, combining elements of adventure, strategy and action RPG games. The independent German studio Maschinen-Mensch is responsible for its creation.
In the game we are at the forefront of the title research expedition to discover places such as Atlantis or El Dorado. The maps are generated in a procedural manner and divided into hexagonal fields, and the way they are explored resembles the model known from the Civilization series. When you reach an interesting place, the game switches to the perspective typical of adventure games. During each expedition we come across villages inhabited by local tribes, with whom we can communicate and trade. In search of fame and, of course, treasures are disturbed by various traps and curses, hidden in mysterious ruins or temples. We will also face various opponents, such as wild animals (including dinosaurs), crazy cannibals and zombies and other grotesque creatures.
Our team will include a place for the most eminent nineteenth-century scientists and travelers, including Karol Darwin, Amelia Earhart, Nicola Tesla and Marie Curie. Each of the heroes works for their own fame and reputation, and has a unique, proper weaponry. For example, Tesla uses a coil that she invented, which blasts enemies with electricity, while Darwin has a simple but effective weapon in his disposal - his faithful edging. Apart from our designated commander, who cannot die, each of the other heroes is at risk of easy death. Fortunately, in such a case, the fame and equipment gained by him are not lost. However, if we manage to keep all the members of the expedition alive, we will be able to use their skills in future expeditions.
The game puts a lot of emphasis on the aspect of logistics and expedition planning. Selection of appropriate equipment and skillful management of resources is a key element for the course of each expedition - we have to take into account water supplies and food, and choose equipment that can be useful during the mission, for example, to fight enemies and wild animals. We can also hire additional mercenaries to defend the team. Our capabilities, however, limit the amount of available cash and the capacity of train animals, which act as porters. In addition, our actions during the mission affect the health, well-being and morale of individual heroes, which may lead to rebellion and failure of the whole expedition.
Inspirations of the creators of The Curious Expedition are very wide circles, starting from the work of Julius Verne and his Journey to the interior of the Earth on the achievements of H.P. Lovecraft. The authors used elements of contemporary indie production (FTL, Spelunky, Dwarf Fortress), as well as the classics like Gold Rush! Sierra.
Please let us know if you have any comments or suggestions regarding this description.
Similar games:
Age Rating
age requirements: everyone
System requirements
Minimum:
Dual Core 2 GHz
1 GB RAM
graphic card 128 MB GeForce 6200 or better
150 MB HDD
Windows XP