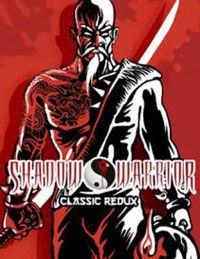 Shadow Warrior Classic Redux is an action and FPS hybrid, a refreshed version of the cult Shadow Warrior from 1997. The production was released by Devolver Digital on both personal computers and mobile devices, and its preparation was taken by General Arcade studio. In addition to the basic version of the game, the title also includes two major extensions - Wanton Destruction and Twin Dragon.
Story
Shadow Warrior Classic Redux takes the player to a futuristic Japan subordinated to big corporations. Each of them has shadow warriors at their service, including the main character Lo Wang, who works for Zilla Enterprises. The protagonist discovered that his boss, Master Zilla, is planning to conquer the Land of the Cherry Blossom with the use of dark forces summoned from another dimension. So the warrior left his previous employer, who in retaliation sent his demonic allies to him. There's nothing left for the Wang but to grab a weapon and face both the evil creatures and Zilla himself.
Mechanics
In Shadow Warrior Classic Redux on the PC and AND platform, we observe the action from the first person perspective (FPP). The game has been divided into missions, during which we pass through the levels and fight with encountered enemies - on our way there are standard adversaries, whose overcoming is not a big problem, and powerful demons playing the role of bosses, characterized above all by much greater endurance than their smaller kinsmen.
The main character, however, is not a novice. In clashes he makes perfect use of his own fists, katana and shuriken, as well as firearms in the form of two UZI, a modified shotgun, a grenade launcher or even a rocket launcher. In addition, as a weapon it can also use cut off body parts of its opponents, and from time to time it sits at the controls of vehicles.
Technical issues
The creators of Shadow Warrior Classic Redux were not tempted to make too many changes compared to the original - the game works at a higher resolution, and the musical theme was recorded anew. In addition, the whole was enriched with a set of achievements.
Please let us know if you have any comments or suggestions regarding this description.
Similar games:
Age Rating
age requirements: 18+