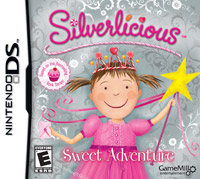 game language: English
game release date for NDS:
13March2012
Following the enchanting storyline of Silverlicious written and illustrated by Victoria Kann, Silverlicious the game lets players set out on an adventure as Pinkalicious who has lost her ability to taste anything sweet. Help Pinkalicious regain her sweet tooth as you practice kindness, good manners and helping others in need. Unlock magical rewards including butterflies, sparkle rides and fireworks, as you explore the beautiful lands and meet new friends. Along the way you will learn that true sweetness comes from much more than cupcakes and cookies. Whether playing alone or with others, Silverlicious the game creates an imaginative and fun way to drive home the importance of kindness and manners.
Features
• Collectables: Dress up Pinkalicious in three different costumes from a beautiful dress to fairy catching gear; accessorise her outfits with over 20 collectible accessories
• Meet Fun Friends: Explore across holiday-themed neighbourhoods and meet new friends like Carlos Cupid, Edgar the Easter bunny, Easter chicks and more
• Holiday-Themed Neighbourhoods: Twirl, glide and dance in three holiday favourite lands including Very Valentine's, Easter Excitement and Christmas Caroling
• Positive Messages: All modes and gameplay focus on the importance of practicing kindness and good manners, like using 'please' and 'thank you' to increase the sweetness meter
• Rewards: Gain special rewards and bonus items for performing acts of kindness
Age Rating
age requirements: everyone