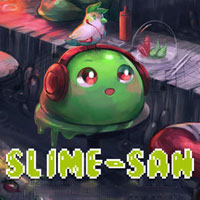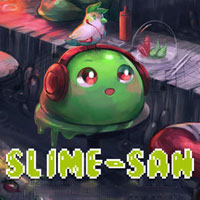 Slime-san
A platform game whose main protagonist is the title Mucus; the protagonist has been swallowed by a giant worm and now has to fight for life, trying to find a way out of this deadly trap.
Action | platform | 2D | indie games
Slime-san is a platform game developed by independent studio Fabraz. The title made its debut on PC, and after some time it received two add-ons, entitled Blackbird's Kraken and Sheeple's Sequel (available in the form of free, but dependent DLCs or paid, standalone items). Later, the game was also released on consoles - first on Nintendo Switch, then on PlayStation 4 and Xbox One (as Slime-san: Superslime Edition).
Story
The main character of Slime-san is the eponymous slime, which is swallowed by a giant worm while walking in the forest. From now on, his primary goal is to escape from this deadly trap; however, things are complicated by the fact that he is constantly being chased by digestive juices in order to turn him into a full-fledged meal for the giant beast.
In a separate campaign, introduced by the Blackbird's Kraken's expansion, our protege is once again in trouble. This time, during holidays at the seaside, spent in the company of his family, he falls prey to the giant Kraken. Of course, the he must again make every effort not to become a nutritious mush.
In Sheeple's Sequel, the hero confronts the title Sheeple, who has understood that he is only an NPC in a video game, so the antagonist decides to become a real villain and force the hero to deal with the challenges he has preapred.
Mechanics
In Slime-san the action is shown from the side. In the course of the game we complete levels consisting of single rooms and try to get to the exit in one piece. Our protege is able not only to jump, but also to stick to walls and elements of the environment, perform simple manoeuvres in the air, dodge and manipulate time. This is useful as every stage is full of traps and enemies; to make matters worse, from time to time the protagonist has to face bosses, and a wave of digestive juices is constantly forcing him to hurry up.
Fortunately, the title slime is not the only being who has survived the swallowing; the survivors found refuge in a village where the protagonist can get useful equipment or simply have a chat with one of its inhabitants. In return for the apples collected during the adventure we not only unlock skins for the hero, but also get access to completely new characters offering various bonuses; for example, as Evil-san we can jump higher, although we have to take into account the lack of walking skills.
Game modes
In addition to the basic game variant, Slime-san offers several other game modes, such as New Game+, Speedrun (where we deal with completing the stages as fast as we can) and Boss Rush (focused on boss battles). In addition, there are multiplayer mini-games based on competition, and in the PlayStation 4 and Xbox One versions - ten additional levels in which we take control of Grandpa-san.
Technical aspects
Slime-san features simple, pixelart visuals straight from 8-bit hardware. The retro style is complemented by a chiptune soundtrack, which was supervised by ten artists such as Adhesive Wombat, Tiasu, MegaNeko and Richard Gould.
Game mode: single / multiplayer Multiplayer mode: Player counter: 1-2
PEGI rating Slime-san