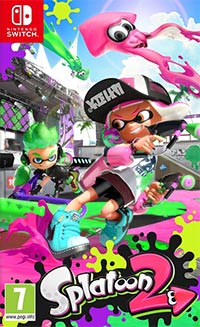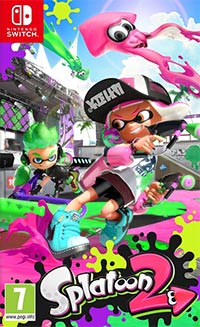 Splatoon 2
Switch
A continuation of a multiplayer-focused TPP shooter from 2015, developed for the Nintendo Switch console. Splatoon 2's gameplay follows its predecessor and lets the players control Inklings – joyful human octopuses who fight using paint-based weapons.
Action | TPP | TPS | co-op | shooters | Nintendo exclusive titles
Splatoon 2

Release Date Switch

21July2017
developer: Nintendo publisher: Nintendo Official website

game language: English
Splatoon 2 for SWITCH is a sequel to 2015's Splatoon, a third-person shooter that debuted on Wii U console. Nintendo developed production with multiplayer battles in mind, be it through local mode (TV and mobile) or through online network.
Game mechanics
Gameplay of Splatoon 2 for SWITCH uses the same base as its predecessor. Once again players take control of Inklings – cheerful human octopuses who fight using paint-based weapons not only to attack opponents, but also to paint the map, which is one of game's objectives. Characters move like normal humans, running and jumping, but they can also instantly dive into painted parts of an area. This lets them travel at faster speed and refill their ammunition.
New things include e.g. Splat Dualies weapon, which is a special double rifle, and a new move in form of the so-called Dodge Roll. There are also smaller novelties like more heroes and refreshed version of the old cast.
As far as its controls go, Splatoon 2 for SWITCH has been adapted to both Joy-Con and a Pro Controller (a more classic gamepad). It should be noted that both devices let players use gyroscope, which helps with aiming.
Technical aspects
Splatoon 2's visual on SWITCH aren't much different from what the first game presented. Naturally, it looks slightly better, but there are no revolutionary changes.
Game mode: single / multiplayer Multiplayer mode: Internet
User score: 6,7 / 10 based on 197 votes.
Pre-release expectations: 9.0 / 10 based on 24 votes.
PEGI rating Splatoon 2