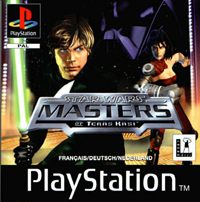 Game mode: single / multiplayer
Multiplayer mode: common screen, players: 1 - 2

game language: English
game release date for PS1:
31October1997
Star Wars: Masters of Teräs Käsi is a PS1 platform release of a three-dimensional fight taking place in the universe of Star Wars. This is the first game by LucasArts created with Sony console in mind. Special effects specialists from Industrial Light & Magic also helped with the production.
Story
The story told in the PS1 edition Star Wars: Masters of Teräs Käsi takes place between the events of the films Star Wars: Part IV - New Hope, a Star Wars: Part V - Empire counterattacks. After the destruction of the Death Star by Luke Skywalker, the Emperor wants to take revenge on the future Jedi and his allies from Rebelia. To this end, he hires a mysterious murderer, Arden Lyn, to eliminate key members of the Alliance. When this information reaches Luke and his companions, they decide to challenge Arden for a direct duel in the spirit of the martial arts of Teräs Käsi.
Mechanics
Star Wars: Masters of Teräs Käsi on PS1 is a fully three-dimensional fight where characters can move in all three planes. The clashes take place in the arenas limited by abysses - falling out of the ring is tantamount to losing a round. During battles, warriors fill up special belts, thanks to which it is possible to carry out much more powerful attacks.
Many iconic characters known from cinema screens are at the player's disposal. Among them we can find Luke Skywalker, Princess Leia Organa, Han Solo and Chewbacca. Players can also play the lesser known warriors of the universe, such as Mara Jade, Arden Lyn and the gamorrean guardian Thok.
Technical issues
The use of the Star Wars license allowed the creators to include in the game iconic sounds and melodies known from cinema screens. In addition, the involvement of Industrial Light & Magic's special effects specialists has allowed us to focus on the refinement of the appearance and animation of the characters. Movements of individual characters were recorded using motion capture technique, and their models consist of about 1200 testing ranges - about twice as many as in other games of the genre that were available on the market at the time of Star Wars: Masters of Teräs Käsi's debut.
Please let us know if you have any comments or suggestions regarding this description.
Similar games:
Age Rating
age requirements: 12+