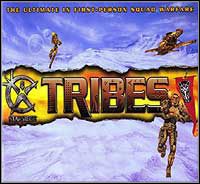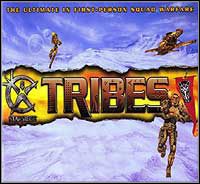 Starsiege: Tribes
PC
Focusing on multiplayer fun on the web, the first-person shooter, whose action is set in the well-known EarthSiege series universe of Metaltech.
Action | science fiction | FPS | shooters
Starsiege: Tribes

Release Date PC

22December1998
developer: Dynamix / Jeff Tunnell Productions publisher: Sierra Official website

game language: English
Starsiege: Tribes is a FPS shooting game for many people, set in the Metaltech universe, known for such games as Metaltech: EarthSiege and EarthSiege 2. The game is the responsibility of the experienced Dynamix studio, which in addition to both titles mentioned above, has such hits as MechWarrior, Red Baron or A-10 Tank Killer.
The plot of the game was set in the 40th century and refers to the events shown in both earlier editions of the EarthSiege series. At a time when mankind is able to colonize even distant galaxies thanks to the discovery of special time-space gates, a conflict breaks out between four powerful factions: Children of the Phoenix, Blood Eagle, Diamond Sword and Starwolf. By taking the side of one of them, players stand up for a murderous struggle to defend their territories and the unique interests of individual factions.
In terms of mechanics, Starsiege: Tribes could be described as a combination of Quake-like dynamic network shooting with tactical elements, somewhat reminiscent of Tom Clancy's Raibow Six Rogue Spear. Players play the role of one of 32 super-warriors, who have at their disposal a number of vehicles, an arsenal of eight futuristic weapons and three types of armour with different characteristics. Each of the participants of the game is also equipped with a special battery for powering the jet jetpack and some types of weapons and activating special packages, thanks to which we can modify the abilities of our warriors. Apart from these, one of the best methods of weakening the opponent is to destroy the defensive structures installed in his bases, such as cannons, sensors, generators, etc. In addition to these, one of the best methods of weakening the opponent is to destroy the defensive structures installed in his bases, such as cannons, sensors, generators, etc., which are to be used for the destruction of the enemy.
The game can take place on one of 40 large maps, set in different sceneries and climatic conditions. Players have several game modes at their disposal, such as Capture the Flag, Deathmatch, Capture and Hold, Defend and Destroy and Find and Retrieve. Depending on the game variant chosen, players have different goals, which will usually require close cooperation of players representing the same faction. Starsiege: Tribes focuses entirely on multiplayer gameplay and has no classic single player campaign. However, we can take part in special training missions, created to improve skills before starting the actual online game.
Starsiege: Tribes balances attractive gameplay with a multitude of armament configuration options, as well as smooth operation and reliability of network modes. The whole project was realized in attractive, three-dimensional graphics, although in order to obtain the best visual qualities it is necessary to have a modern 3D accelerator.
Please let us know if you have any comments or suggestions regarding this description.
Game mode: multiplayer Multiplayer mode: Internet Player counter: 1 - 32
Media type: 1 CD
User score: 7,8 / 10 based on 78 votes.
Age restrictions Starsiege: Tribes: 12+
Starsiege: Tribes System requirements
Recommended:
Intel Pentium 166 Mhz (zalecane 200 MHz)
32 MB RAM
Windows 95