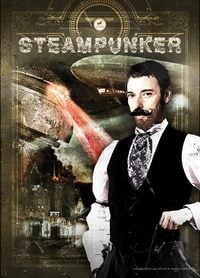 Steampunker
Inspired by the works of fantasy literature classics, Polish point-and-click adventure, maintained in the style of steampunk. We play the role of a simple, unmistakable hero named Vincent, who becomes the last hope of mankind in the fight against alien invasion overnight.
Adventure | steampunk | point-and-click | logical elements | arcade elements | Polish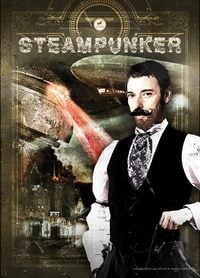 Steampunker is a classic point-and-click adventure game with logical-skillful elements, maintained - as the name suggests - in a steampunk style. The game was created by the Warsaw development studio Telehorse, headed by Mariusz Szypura - an artist previously known mainly for the album covers of such artists as Myslovitz, T. Love, Ania Dąbrowska or Włodek Pawlik. The game appeared on mobile devices with iOS and AND in two versions - for smartphones or tablets.
Story
The plot of the game was inspired by the work of cult fantasy writers, such as H.G. Wells, Juliusz Verne, H.P. Lovecraft or Stanisław Lem. The main character of the game is Vincent - an ordinary and undistinguishable jegomość, who from day to day becomes the last hope of humanity in the fight against the invasion of aliens on Earth. The plot of the game is divided into five chapters, in which we will have to face 30 different tasks. In the course of the game we will travel through five different locations, starting from the gloomy shipyard, through the submarine, the journey to the island, the flight to the moon, to the final skirmish with strangers in space.
Mechanics
The game combines the features of classic point-and-click adventures with elements of games like "hidden objects" and numerous logic-arcade mini-games. The main weapon of the hero in confrontation with strangers is perceptiveness and the ability to think logically, and the game boils down to exploring and searching for objects necessary to complete the task, and then using them during the next puzzle.
Each of these mini-games is an essential element in pushing the story forward. The next puzzles are characterized by different levels of difficulty (from trivially simple to very difficult) and may consist, for example, in arranging puzzles, combining colourful elements or using basic mathematical rules. Several times we will have to participate in purely arcade sequences, in which the hero runs, jumps and shoots at aliens or their ships.
Technical issues
Steampunker's graphics on iOS and AND devices can evoke associations with classic adventures from the 1990s, in which we directed the animated hero after static, prerendered locations. The whole game has been kept in a rather gloomy mood, which gives the gameplay a specific atmosphere, and those who love steampunk will easily find in the game elements of related genres, such as dieselpunk or clockpunk. The fun is accompanied by a quite intuitive control model and a soundtrack prepared by the group Silver Rocket - a musical project by Mariusz Szypura, established in 2001.
Please let us know if you have any comments or suggestions regarding this description.
Age Rating
age requirements: everyone
System requirements
Apple iOS
Android OS