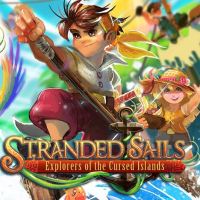 Stranded Sails: Explorers of the Cursed Islands
Stranded Sails - Explorers of the Cursed Islands is an open world adventure game from rokapublish studio. We play the role of a shipwrecked man who, together with his crew, has the task of getting out of the cursed archipelago, where he got stuck after the shipwreck.
RPG | TPP | sandbox | Isometric view | farm | adventure elements | indie games | crafting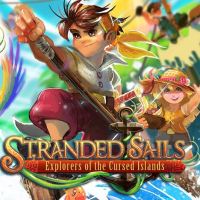 Stranded Sails is an open world game that combines survival, exploration, puzzle solving, farm management and combat. Inspiration to create the game were: The Legend Of Zelda, Harvest Moon and Yonder: The Cloud Catcher.
Plot
The ship's crew is shipwrecked on an island belonging to a mysterious archipelago. During the incident, the ship's captain is seriously injured and we (as his child) are forced to take over the command. Our task is to find a way to provide food for everyone and escape the archipelago. Especially that it turns out to be cursed.
Mechanics
Stranded Sails is an open world game where you can freely explore the islands of the archipelago. All this in order to get the resources needed to build a new ship that will take us home. This is not a short process, and our crew must have the strength to continue the task, so in the beginning the priority is to get food for everyone. The amount of food available on the island is limited, so we have to set up our own farm where we grow a variety of vegetables. Taking care of the full stomachs of the crew members makes them more satisfied and during our expeditions they can take care of our small plantation.
In order to discover all the islands, the player is forced to leave their temporary camp. To do this, they needs a telescope from his father, but not only that. Access to some places is associated with owning a specific object, which we simply have to craft from the required components. This is worthwhile, because each island has different resources. Each of them also hides an incredible treasure waiting to be found.
Despite the idyllic atmosphere, we are not safe here. It turns out that the archipelago is cursed and we are not alone on it. We will have to face arcade battles with supernatural beings residing on islands and being part of the mystery of the archipelago, which we must discover.
The game contains a series of story quests. These are diverse and awards await for their successful completion - among other things, the possibility of expanding the camp, more efficient collection of resources, recipes for crafting or developing the skills of our character.
Technical aspects
Stranded Sails is a fully three-dimensional game, maintained in bright and vivid colors.
In the game there is a possibility to choose the gender of our character.
Similar games:
Age Rating
age requirements: 12+
System requirements
Minimum:
Dual Core 2.0 GHz
2 GB RAM
graphic card 512 MB GeForce 8800 or better
4 GB HDD
Windows 7/8/10