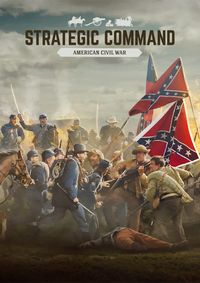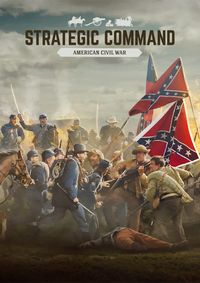 Strategic Command: American Civil War
PC
An expansive turn-based strategy set during the Civil War. In Strategic Command: American Civil War you stand at the head of the Union or Confederacy and lead your army to victory, taking care of the recruitment of soldiers, technological facilities and diplomacy.
Strategy | turn-based | American civil war | war | war strategy | 19th century
Strategic Command: American Civil War

Release Date PC

14July2022
developer: Fury Software publisher: Matrix Games/Slitherine

game language: English
Strategic Command: American Civil War is a complex turn-based strategy that represents a series that began back in 2002. The game was developed by the Fury Software team, in turn, its release was handled by Slitherine, a company specializing in this genre.
Plot
Strategic Command: American Civil War is the first installment of the series, the action of which is set in the 19th century, more precisely - during the Civil War, i.e. the American Civil War, fought in 1861-1865 by the United States of America (called the Union or "North") and the Confederate States of America (called the Confederacy or "South"). The game offers six extensive story campaigns that cover all the warfare fought on North American soil during the period in question. During them, we can lead both sides of the conflict and take part in key battles and events.
Game mechanics
In Strategic Command: American Civil War, we play on a huge map covering the entire area of North America - from Canada to New Mexico and the Caribbean. The entire area is covered with a grid of hexagonal fields; the latter are here as many as 66,000, making it the largest map of this type in the history of the series.
The game takes place in turn-based mode, and during the course of the game all issues related to the conduct of warfare rest on our shoulders. First of all, we are in charge of recruiting soldiers and sending them into battle. Although initially we have only a small professional army, we soon begin to receive volunteers, whom we must train and then organize into brigades, divisions and corps and send into battle. In addition, we appoint generals, choosing them from among a number of historical figures, such as Robert E. Lee, Thomas Jackson, Ulysses Grant, George McClellan or William Sherman; our choice is important because solo battles can have a significant impact on the outcome of the entire conflict.
In addition, we are engaged in conducting research and implementing new technologies. Although at first we use mainly cavalry for reconnaissance and discovery of enemy positions, over time we can use experimental solutions for this purpose, such as observation balloons and armored trains. In addition to land, battles are also fought on the sea (on which wooden and armored ships sail, as well as coastal and high seas), and on the great rivers, led by the Mississippi, Ohio and Cumberland. Admittedly, the latter allow our units to move quickly, but at the same time give the enemy the opportunity to carry out a landing.
In addition, we must oversee the entire industrial and economic base, as well as deal with diplomacy. The latter is so important that the choices we make can decide whether the European powers (Great Britain, Spain and France) get involved in the war. At the same time, it is worth remembering that just across the southern border France under Napoleon III is fighting a war for control of Mexico, which affects our actions a little further north.
Game modes
In addition to six story campaigns, Strategic Command: American Civil War offers an extensive editor that allows you to create your own missions or modifications.
Technical aspects
Strategic Command: American Civil War features simple, two-dimensional graphics, consisting mainly of icons denoting individual units, interface elements and a map of North America.
Game mode: single player
Age restrictions Strategic Command: American Civil War: Good for all ages.
Strategic Command: American Civil War System requirements
Minimum:
Intel / AMD 1.5 GHz
6 GB RAM
graphic card 8 MB GeForce / Radeon or better
Windows 10