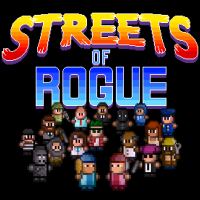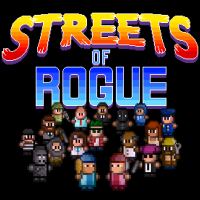 Streets of Rogue
A complex roguelike production in which we go to a hard-ruled city and our task is to reach the top floor of the metropolis and overthrow its mayor-tyrant. Streets of Rogue can be played alone or with up to three players.
Action | roguelike | RPG elements | 2D | for 2 people | co-op | splitscreen
Streets of Rogue is an ambitious roguelike game that draws inspiration from such titles as Nuclear Throne, Deus Ex and Grand Theft Auto. The title was developed by the independent developer Matt Dabrowski and published by tinyBuild.
Plot
The action of Streets of Rogue takes place in a modern city, where lawlessness flourishes under the authoritarian rule of the new mayor. During the game we play as a member of the resistance, whose primary goal is to overthrow the tyrant.
This will not be easy, however, as it requires reaching the very top of a world made up of floors (including slums, an industrial district and a park), where the protagonist must also perform other tasks commissioned by the rebels and city residents. Another thing is that because the metropolis seems to be alive and our actions influence not only the attitude of the inhabitants towards our character, but also the distribution of forces, we have to be constantly on our guard to avoid getting on the bad side of wrong people.
Mechanics
Before the start of a game in Streets of Rogue we choose the character class that interests us. The devs prepared, among others, a soldier, expert in firearms, a bartender whose eloquence enables him to get out of even the biggest troubles or even an intelligent gorilla who makes perfect use of his fists. With time, we unlock new specialties like vampires and zombies. Which character we decide on at the beginning has an impact not only on the skills we use during the game, but also on the available equipment.
Observing the action from bird's eye view, we travel through the procedurally generated levels and perform tasks that are the driving force of the game; they involve, among other things, elimination of specific targets, freeing victims or search for objects. It is worth remembering that there is more than one way to solve each of them. While there's nothing to stop us from going in all guns blazing and eliminating anyone who gets in our way, we can always look for alternatives and sneak past our opponents, use our diplomatic skills or rely on the help of our allies.
In addition to a wide range of weapons and firearms, we can use some more unusual equipment such as explosives, traps or poisons. In addition, as we progress, we level up and gain useful perks that increase our capabilities.
Game modes
Streets of Rogue can be played solo or in the company of up to three players, in local or online cooperation mode.
Technical aspects
Streets of Rogue features colorful, two-dimensional graphics made in pixel art technique.
Game mode: single / multiplayer Multiplayer mode: Internet Player counter: 1-4
User score: 8,8 / 10 based on 390 votes.
Age restrictions Streets of Rogue: 16+
Streets of Rogue System requirements
Minimum:
Dual Core
4 GB RAM
graphic card 1 GB GeForce GTX 460 or better
320 MB HDD
Windows 7