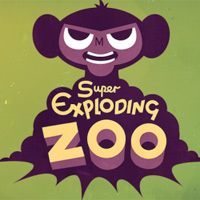 Game mode: single / multiplayer
Super Exploding Zoo is a two-dimensional arcade/logic game for PS4 and PSV mixed with elements of tower defense. The game was developed by Honeyslug, an independent British studio known from PlayStation titles, including Hohokum for PlayStation 4, as well as handheld Frobisher Says! for PS Vita.
Mechanics
The game takes us to a zoological garden that has been invaded by insect-like aliens, destroying everything on their path. We assume control over a group of animals that fight against the invaders – the goal is to defend animal eggs against the aliens' claws. The rules are simple – we are left with two-dimensional garden alleys, each containing an egg at its end. Our job is to stave off enemies and defend the eggs. Moreover, we are constantly acquiring new companions by destroying the walls or hedgerows blocking access to their enclosures. Interestingly enough, each member of our team is also a mobile bomb, able to explode at will to deal damage to nearby fields.
Different species are characterized by different abilities and the amount of damage they inflict. For example, Crocodiles can create "bridges" that enable us to cross flooded areas. Even if the game seems simple at the beginning, the difficulty level quickly increases, forcing us to employ various strategies that will enable us to free as many animals as we can and destroy our enemies. Moreover, our resources (including animal abilities) are limited, which makes the game even more demanding.
Game Modes
The campaign consists of 80 varied levels. If we manage to complete them all, we are introduced to a challenge mode that offers randomly generated levels. Super Exploding Zoo also contains multiplayer modes.
Technical Aspects
The graphics had been developed with utmost detail, with a style similar to the previous games developed by Honeyslug. Many players should find the warm pastel colors and cartoon characters quite enjoyable.
PEGI Rating
System requirements
PlayStation Vita
Uses: PlayStation Network