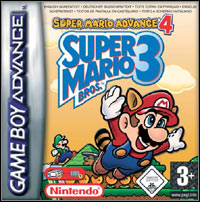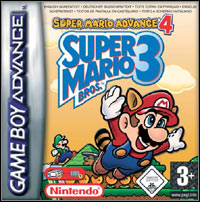 Super Mario Advance 4: Super Mario Bros. 3
GBA
Super Mario Advance 4: Super Mario Bros. 3 is the fourth installment of the cult series of platformers with a nice plumber in the title role. This time Mario and Luigi have to deal with the seven sons of Bowser, who managed to turn the rulers of the Mushroom World into animals.
Arcade | platform | 2D | Mario | Nintendo exclusive titles
Super Mario Advance 4: Super Mario Bros. 3

Release Date GBA

17October2003
developer: Nintendo publisher: Nintendo Official website

game language: English
A combination of flawless platforming action, wild power-ups and trademark Mario style has earned Super Mario Bros. 3 a special place in the hearts of gamers everywhere. In fact, it is so beloved that Mario fans have made Super Mario Bros. 3 the best-selling game of all time! With the release of Super Mario Advance 4: Super Mario Bros. 3, you'll have your chance to partake in this modern classic anywhere you go on your GBA. Your mission is to rescue the Mushroom Kingdom monarchs who have been transformed into animals by Bowser and his mischievous offspring, and in the process save the princess kidnapped by Bowser. Traverse eight huge worlds and encounter fun minigames and frantic boss-battles as you explore the first Mario game to use an overworld map.
Features
* Gather a host of truly inspired power-ups including the Warp Whistle and Lakitu's Cloud.
* Slip on one of six brilliant suits, including the Frog Suit and the Tanooki Suit.
* Explore and conquer 8 challenging worlds in the Mushroom Kingdom.
* Square off against Bowser in a menacing castle guarded by an army of tanks and airships.
* Link up with any of the other Super Mario Advance games for head-to-head competition in the original Mario Bros. game. It's old-school gaming at its best!
Bottom Line
Super Mario Bros. 3 has withstood the test of time to prove that it's one of the finest videogames ever conceived. With the release of Super Mario Advance 4: Super Mario Bros. 3, gamers everywhere can take it with them wherever they go. Side-scrolling platformers don't get any better than this.
Game mode: single / multiplayer Multiplayer mode: Player counter: 1-4
User score: 8,3 / 10 based on 266 votes.
PEGI rating Super Mario Advance 4: Super Mario Bros. 3
Super Mario Advance 4: Super Mario Bros. 3 System requirements