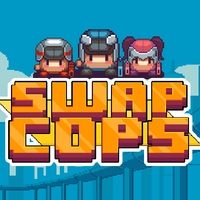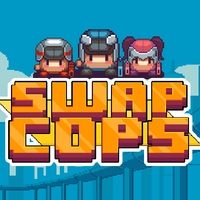 Swap Cops
A mobile turn-based strategy game, created by the team responsible for Swap Heroes. The game is distributed in a free-to-play mode with optional microtransactions. In Swap Cops, we take control of a group of futuristic police officers, battling dangerous criminals.
Strategy | science fiction | turn-based | RPG elements | logical elements
Swap Cops is an unusual turn-based strategy released on Android and iOS. The production is a continuation of the Swap Heroes series and was developed by Savory Games, the same team that was behind the previous parts. The game is available in a free-to-play model with microtransactions.
Plot
Swap Cops abandons the fantasy realities known from previous games and moves to a science-fiction universe. The action is set in the near future. We command a group of law enforcement officers armed with futuristic gadgets, who are forced to face dangerous criminals.
Mechanics
As in the original, Swap Cops is mainly about fighting turn-based battles with increasingly powerful waves of enemies. Of course, the most characteristic element of the series, the unusual combat system in which the player introduces one change in the team line-up before each subsequent turn (e.g. moving a character who was at the back to the first line), is used here. Then, our characters attack on their own and defend themselves against enemies.
Contrary to appearances, this simplicity and automation don't make the game easy at all. Characters have many unique skills, which is why their position plays a key role. Moreover, we cannot afford any losses and the death of even one law enforcer can force us to repeat the battle.
Character skills are one of the most important elements of fun when it comes to recruiting new law enforcement officers. Swap Cops features a total of twelve characters with unique abilities.
Game modes
Swap Cops has only a single-player mode. There are no traditional multiplayer options and the only way to compete with other users is to compare results using constantly updated online rankings.
Game mode: single player
Age restrictions Swap Cops: Good for all ages.