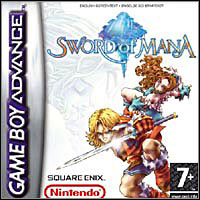 Sword of Mana
GBA
Sword of Mana clearly refers to the legendary predecessor, being an adventure game with very strongly marked RPG elements.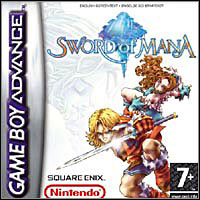 Game mode: single / multiplayer

game language: English
game release date for GBA:
01December2003
Sword of Mana is a Game Boy Advance heir to the glorious heritage of Square's SNES RPGs of the 90's. Secret of Mana, Sword of Mana's predecessor, is widely regarded as one of the finest console RPG's ever made. Although the two share little in common in terms of story, they both feature a similar art style, action-oriented gameplay and wildly-addictive gameplay. Boasting a huge game environment, a gripping storyline and a deep class upgrade system, Sword of Mana delivers epic adventure.
Features
* Long, dramatic story in the tradition of Squaresoft's finest RPGs.
* Complex relationships between characters.
* Intricate class-development system allows you to mold the path of your hero.
* Weapons and Magic Spells gain levels as you advance in your adventures.
* Different enemies will appear depending on the day and hour.
In Sword of Mana, you'll choose between playing a male or female hero. Although there is just one overall storyline, the pieces of that story you experience and areas of the world you visit will be determined by the character you choose. Often, the two characters work together, but there are some areas that are exclusive to each. Players that enjoy the game will want to play through it again to explore all the terrain they missed from the other perspective.
The class system offers another layer of RPG depth to what appears on the surface to be an action adventure. As characters gain levels for slaying enemies, you'll have a chance to choose career paths for your character, like Monk and Wizard. If you continue to level up, you may get the opportunity to upgrade to an elite character class. Elite character classes gain powerful abilities that are unavailable to lesser classes.
Bottom Line
Old-school RPG fanatics have longed for a return to Secret of Mana's brilliant splendor, and with Sword of Mana, they finally can. Gamers unfamiliar with the series, along with fans of the Zelda series, will also enjoy the Sword of Mana's fast action and fathomless depth.

Game score 8.3 / 10 calculated out of 83 players' votes.
PEGI Rating
System requirements
Game Boy Advance
Uses: link-cable