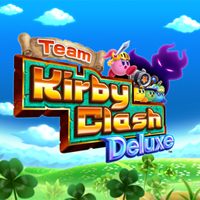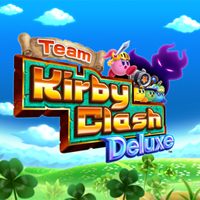 Team Kirby Clash Deluxe
3DS
A multiplayer action game by Nintendo, utilizing a free-to-play model. As the title implies, the players take on the roles of Kirbys, who participate in team battles with boss enemies threatening the Dream Kingdom.
Team Kirby Clash Deluxe

Release Date 3DS

12April2017
developer: Nintendo publisher: Nintendo Official website

game language: English
Team Kirby Clash Deluxe for 3DS is a game by Nintendo. It's simplified edition was featured in the 2016 Kirby: Planet Robobot as a minigame. The enhanced edition utilizes a free-to-play model with optional microtransactions allowing you to e.g. renew the energy needed to participate in more battles.
Mechanics
Team Kirby Clash Deluxe is an arcade action game focusing on the multiplayer mode for up to 4 players at once. The players take on the roles of Kirbys and together they try to eliminate boss enemies that threaten the Dream Kingdom. There are four kinds of Kirbys to choose from (Sword Hero, Hammer Lord, Beam Mage and Doctor Healmore) and every one of them has their own unique abilities; one is physically strong, another can heal his companions, and yet another uses magic. This calls for cooperation, as the enemies are powerful and durable. Victories earn you experience points, which affect your stats. Moreover, you can craft new equipment with the resources you gather.
Other
Team Kirby Clash Deluxe is a free-to-play game. To participate in battles you need Vigor points. If you run out of them, you have to wait for them to renew or buy them with Gem Apples, the in-game currency sold for real-life money. You can also buy extra time for boss battles and for the ability to continue the fight when you lose. Gem Apples can also be gained during the game by playing Heroic Missions and visiting the Bandana Waddle Dee's tree.
Game mode: single / multiplayer Multiplayer mode: Internet Player counter: 1-4
Age restrictions Team Kirby Clash Deluxe: Good for all ages.